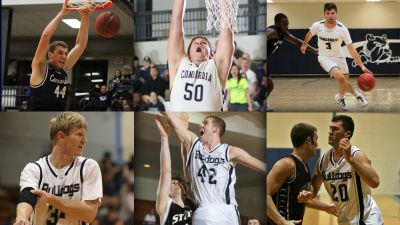 The purpose of this piece is to answer the question quite simply: who wore it best? Below is our list of top Concordia men's basketball performers at each jersey number during the GPAC era (first season in 2000-01). In the sport of basketball, players are not allowed to wear a single digit greater than 5. Since 2000, several numbers have been issued infrequently or not at all within the program. Other numbers (like 12) have considerable depth of talent.
Top performers by number, GPAC era (20 seasons)
#1 – Not worn.
#2 – This number has only been issued in recent years with it having been donned by the likes of Rudy Knight, Sam Scarpelli and Riley Tegtmeier. Scarpelli provided nice minutes off the bench for the 2019-20 national qualifying team.
#3 – Not many have worn No. 3, but Brevin Sloup did it justice during his four-year run. He garnered second team All-GPAC honors as a junior and then moved up to the first team as a senior. He was also tabbed an honorable mention All-American choice in 2019-20. Sloup concluded his collegiate career with 1,246 points, 297 rebounds and 250 assists. He drained 220 3-point field goals as a Bulldog.
#4 – He played just one season with the Bulldogs after transferring in for the 2015-16 season, but Jamie Pearson made a significant impression. He averaged 18.3 points, 4.4 rebounds and 3.9 assists per game and was recognized as a second team All-GPAC honoree. Pearson put up 37 points in an upset win over Bellevue.
#5 – All single digit jersey numbers began to pop up since Ben Limback became head coach. Eli Ziegler (2013-17) deserves plenty of credit for his development over time. He went from averaging 3.8 points as a freshman to 16.5 as a senior. He racked up 1,194 career points and shot 42.9 percent from 3-point range as a Bulldog. The torch has been passed to Carter Kent, a second team All-GPAC selection as a sophomore in 2019-20.
#10 – A second team All-GPAC pick as a senior in 2013-14, Adam Vogt became a reliable scoring option and totaled 910 career points. He averaged 14.5 points per game in his final season while shooting 41.3 percent from long range. The current No. 10, Justin Wiersema has a bright couple of seasons ahead of him. He was tabbed honorable mention All-GPAC in 2019-20.
#11 – There haven't been many No. 11s. Seth Curran wore it later in his career and became the starting point guard in 2016-17 when the Bulldogs won 21 games. Curran averaged 8.0 points per game.
#12 – Three players at this number are 1,000-point scorers. Scott Beck owns program all-time rankings of third in rebounds (781), third in assists (446), fourth in steals (207) and 11th in points (1,406). He helped steer the 2004-05 team to the national championship game and earned honorable mention All-America laurels. Travis Wischmeier notched 1,335 points and picked up honorable mention All-America accolades in 2001-02. Wischmeier was part of the 2000-01 team that reached the national tournament. Finally, Robby Thomas (2012-16) is the program's all-time leading shot blocker with 204 career rejections. Thomas collected three All-GPAC mentions as a Bulldog.
#13 – Not worn.
#14 – Tim Schroeder's final collegiate season came during the first year of the GPAC. He averaged 15.0 points per game and shot 43 percent from long range while running his career point total to 1,346. Schroeder was named an honorable mention All-American following the 1999-2000 campaign. Tyler Byrd (2008-12) also liked to shoot it from 3-point distance. He accumulated 1,113 points and garnered honorable mention All-America accolades in 2010-11.
#15 – Not worn.
#20 – One of the all-time greats, Rick Dietze earned GPAC Player of the Year honors as a senior in 2003-04 when he was also chosen as a second team All-America selection. He led the 2002-03 squad to a GPAC tournament title and was named to the 2003 NAIA national tournament all-tournament team. Dietze ranks sixth on the program's all-time list with 1,625 points. He averaged 20.6 points and 5.1 rebounds in 2003-04.
#21 – He's the first to make 21 famous. Tanner Shuck quietly became one of the top 10 scorers in program history while serving as a consistent performer over the past four seasons. His 302 career 3-point field goals are the second most ever by a Bulldog. Shuck garnered three honorable mention All-GPAC awards and totaled 1,579 points.
#22 – Voted Team MVP of the 2000-01 squad, Derek Engelbart enjoyed a fine career that saw him tally 1,105 points. On a national qualifying squad that season, Engelbart averaged 16.1 points and shot 55 percent from the floor as a 6-foot-4 guard. Joel Haywood picked up GPAC Freshman of the Year honors in 2011-12 and totaled 1,091 career points. He ranks sixth in school history in career assists (334).
#23 – This number has been worn only sparingly during the GPAC era.
#24 – Many names have been associated with No. 24 but few have earned all-conference awards. Wes Gehring put together a solid season off the bench for the 2004-05 national runner up team when he averaged 9.1 points and 3.4 rebounds.
#25 – Not worn.
#30 – His presence in the post proved critical for the 2019-20 national qualifying team. Chuol Biel led the GPAC in blocks per game in both of his two seasons as a Bulldog. He averaged 6.0 points, 7.5 rebounds and 1.65 blocks per game as a senior and put up a career high 19 points in the national tournament game.
#31 – Not worn.
#32 – Jon Ziegler is in the discussion for greatest player in program history. He is the school's all-time leading scorer with 2,099 points. He also put together one of the most memorable single-game performances ever by a Bulldog when he poured in a program standard 47 points against Sioux Falls in 2007. Ziegler starred for the 2004-05 national runner up squad and also sports school career rankings of second in steals (223), fourth in rebounds (762) and eighth in assists (287). Many people are aware of Drew Olson's success as women's basketball coach, but they should also know he could ball. He played his first season at Hastings before transferring and posting 1,123 career points while garnering 2002-03 honorable mention All-America status.
#33 – Not worn.
#34 – In three varsity seasons, Scott Hannon proved to be a dependable scoring option, accumulating 1,149 points. He averaged 18.2 points during the 2006-07 season. He was named second team All-GPAC in back-to-back years. A transfer, Beau Smith played the 2011-12 and 2012-13 seasons at Concordia and averaged 12.0 points per game for his career.
#35 – Not worn.
#40 – A solid four-year role player, Brent Houchin notched 641 points and 362 rebounds over 111 career games played during the 2009-10 through 2012-13 seasons.
#41 – In recent years, this number has been worn by role players such as Gage Smith and Max Wegener. Smith currently dons 41.
#42 – Jason Jisa was the Team MVP for arguably the greatest team in program history – the 2004-05 national runner-up group. Jisa collected back-to-back GPAC Defensive Player of the Year awards and landed on the 2004-05 All-America third team. A Concordia Athletic Hall of Famer, Jisa tallied 1,117 points, 477 rebounds, 159 steals and 96 blocked shots. A Seward native, Jisa began his college career as a walk-on football player at the University of Nebraska.
#43 – Not worn.
#44 – Players the caliber of Chandler Folkerts just don't come around that often. The big man owns school career all-time rankings of second in rebounding (868), third in points (1,963) and fourth in blocked shots (142). Folkerts picked up a long list of honors throughout his career, including second team All-America recognition as a senior in 2016-17. The Chanimal was as impressive off the court as he was on it. There have been some other noteworthy No. 44s such as Ben Buhr (1,479 career points) and Sam Huebner (career totals of 993 points, 684 rebounds and 106 blocks). Buhr and Huebner were multiple time All-GPAC selections.
#45 – Not worn.
#50 – Perhaps one of the unsung heroes of the 2004-05 team, Marcus Wernke played a critical role in the thrilling run. Wernke even blocked nine shots in a single national tournament game and averaged 2.87 rejections per game. He also averaged 6.9 points and 5.2 rebounds as a senior. Porter Birtell was another standout big man. Birtell owns program all-time rankings of seventh in rebounds (712) and 12th in points (1,390). Birtell raked in honorable mention All-America honors in 2011-12 when he averaged 17.2 points and 8.3 rebounds.
#51–55 – Mostly role players have held down numbers in this range for the program. Current Concordia football assistant coach Reggie Corbin briefly wore 52 before switching to 42 later in his career. Corbin averaged 5.6 points and 6.1 rebounds during the 2006-07 campaign. Ben Buhr wore 52 before transitioning to 44. The numbers 51, 53 and 55 have not been worn.