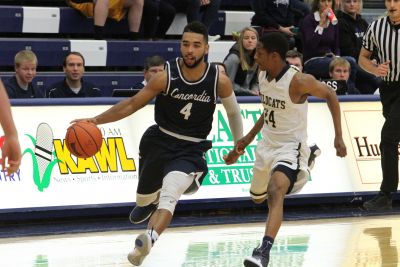 Men's basketball carries momentum into Saturday home GPAC battle
SEWARD, Neb. – Fresh off an impressive showing at the Dick Versace Holiday Classic in West Palm Beach, Fla., the Concordia University men's basketball team returns to conference action on Saturday when it welcomes Dordt (12-4, 4-3 GPAC) to Walz Arena. Tipoff is slated for 3 p.m. The Defenders won this season's first matchup and have defeated the Bulldogs in each of the last nine meetings. Concordia enters the game with two-straight wins and with four victories in its last five outings, including the 86-70 win at No. 3 Northwood University on Monday.
A live webcast of the contest will be available via the Concordia Sports Network.
Most significant win since …
Monday's domination of third-ranked Northwood University, defending Sun Conference champion, marks the most significant win since head coach Ben Limback took over at the helm of the program last season. It was the second time the Bulldogs upset a top 15 team in as many years. Led by Adam Vogt, Concordia knocked off No. 13 Oklahoma Wesleyan, 85-76, on Nov. 9, 2013.
The latest victory over a ranked opponent was made possible by a huge performance from Robby Thomas, who tallied a career high 27 points and rejected seven Seahawk shots. Concordia shot 61.2 percent (30-for-49) from the field and 52.6 percent (10-for-19) from 3-point range to overcome its 23 turnovers. In addition, the Bulldogs held standout guard Chris Solomon to eight points on 3-for-14 shooting.
Thomas closes in on school blocked shots record
Rising star Robby Thomas, who is averaging career bests in scoring (15.1 ppg), rebounds (7.2 rpg), blocks (2.94) and steals (1.1), blocked a total of 10 shots on his way to earning all-tournament honors at the Dick Versace Holiday Classic. With 47 blocks on the campaign, Thomas is on track to break Glen Snodgrass' (1995-98) program single-season record of 59 blocks during the 1997-98 season. Thomas, who ranks third nationally in blocks per game, has 112 career denials compared to Snodgrass' program career record of 188.
On the upswing
At 9-7 overall, Concordia has already surpassed its win totals from each of the previous two seasons in its bid for the program's first winning record since the 2010-11 team went 16-13. The win at Northwood bumped the Bulldogs' road mark to 5-3, equaling their combined number of road victories from the 2012-13 and 2013-14 seasons. Among GPAC teams, only No. 4 Dakota Wesleyan (6-1) and No. 8 Midland (6-1) have captured more road wins this season. Concordia, currently in sixth place in the league standings, is aiming to earn a berth in the GPAC tournament for the first time since 2012.
Haywood within 100 points of 1,000 for career
Senior Joel Haywood, the 2011-12 GPAC co-freshman of the year, moved over 900 career points by netting 19 and nine points, respectively, in this week's weeks in south Florida. The native of Lakewood, Colo., now with 907 career points, is looking to become the 26th player in program history to join the 1,000-point club. Concordia's all-time leading scorer is Jon Ziegler, who piled up 2,099 points during his four-year career from 2004-07. Ziegler is one of two Bulldogs to reach 2,000 points.
Folkerts takes over rebound lead
Sophomore post Chandler Folkerts edged in front of Thomas for the team rebounding lead by hauling in 16 boards over the two wins in The Sunshine State. Folkerts helped fuel the comeback victory over Concordia University Canada by racking up 19 points and 11 rebounds for his GPAC-leading fifth double-double of the season. Folkerts (7.3 rpg) and Thomas (7.2 rpg) rank third and fourth, respectively, among GPAC players in rebounding. They are also the conference's top two shot blockers in terms of total blocks.
Shooting stars
Concordia's 10-for-19 shooting performance from beyond the arc in the win over No. 3 Northwood marked the fifth time this season that it has made at least 10 3-point field goals in a game. The Bulldogs are 4-1 in those contests. Ranked 34th nationally in 3-point field goal percentage (.382), Concordia possesses three players shooting better than 40 percent from distance: Eli Ziegler (.450), Robby Thomas (.448) and Joel Haywood (.417).
Hot Dordt invades Walz Arena
A national tournament qualifier three years running, sixth-year head coach Ross Douma's squad enters the weekend with plenty of momentum of its own. The Defenders have won four in a row and seven of their last eight contests, including an 84-83 upset of fourth-ranked Dakota Wesleyan on Dec. 10. Behind star junior guard Nathan Rindels, Dordt is one of the nation's top offensive teams – 11th nationally in field goal percentage (.503) and 12th in scoring (87.4) – and a beast on the boards (sixth in NAIA Division II with a 10.6 rebound margin). One possible advantage for Concordia is that Dordt comes into Saturday following a stretch of 15-straight days since its last time out – an 86-51 win over Martin Luther College. The Bulldogs must do a better job of containing the combo of Rindels and Tyler Wolterstorff, who combined for 58 points in Dordt's win 100-79 win over Concordia on Dec. 6.