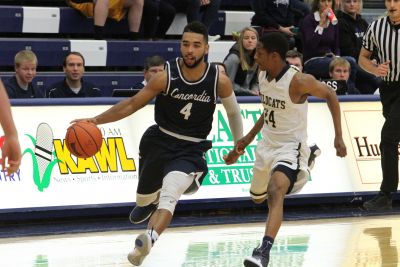 Men's basketball announces 29-game 2015-16 schedule
SEWARD, Neb. – The 2015-16 Concordia University men's basketball season will tip off on Halloween for the second-straight year. Head coach Ben Limback's third Bulldog team will host Johnson & Wales University (Colo.) at 12 p.m. on Oct. 31 as part of a stretch of four-straight home games to begin the campaign.
At the 16th annual Cattle Classic, Concordia will host both in-state Bellevue University and Mayville State University (N.D.), Nov. 6-7. Other nonconference highlights include a trip to Redding, Calif., for a two-day event hosted by Simpson University (Dec. 28-29) and the annual Concordia Invitational Tournament held in River Forest, Ill. (Jan. 29-30).
First team all-conference selection Chandler Folkerts and company are scheduled to play at Walz Arena at least one more time this coming winter as compared to the 2014-15 season. Fourteen of the 29 games are slated to take place in Seward. Last year the Bulldogs were 5-8 at home and 11-7 in road/neutral contests.
Limback has graduated just one player – Joel Haywood – from the 2014-15 team that went 16-15 overall for the program's first winning season since 2010-11. Folkerts and fellow all-GPAC choice Robby Thomas will be back on the hardwood come late October.