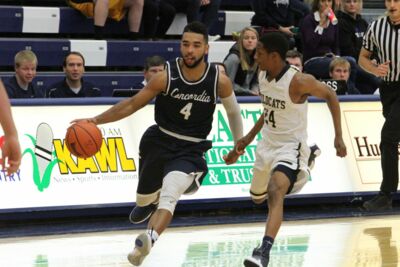 Limback's excited to join Bulldog family
New Concordia head men's basketball coach Ben Limback jumped at the chance to return to the place he graduated from in 1999. Officially named head coach of the Bulldogs on March 12, Limback got started recruiting immediately and began his first day on campus on March 25.
"Having the opportunity to reconnect with a lot of familiar faces – faculty, players, former students that I went to school with – it's been exciting," Limback said. "Just to be back on campus has been great. A lot of things have changed. It's been an amazing week-and-a-half so far to be able to reconnect with the Bulldog family."
Limback, the 1998-99 Nebraska-Intercollegiate Athletic Conference Player of the Year as a Bulldog, coached for nine seasons at Concordia-Ann Arbor. He enjoyed leading the Cardinals during a nine-year run as head coach, but is ecstatic to be back in Seward.
"This is something even when I graduated here, you always dream about coaching again at your alma mater," Limback said. "The thing that excited me most was that the experience I had here as a student-athlete was awesome. To now come back and be part of that again but from the other side as a coach, that's really what excited me most."
The Cedar Falls, Iowa, native is now tasked with restoring the winning tradition of Bulldog men's basketball while maintaining the program's Christ-centered foundation. With the graduation of five seniors who logged heavy minutes this past season, Limback has his sights set on nailing down a 2013 recruiting class long on numbers and talent.
Limback says the response in recruiting has been excellent since he took over. However, there are obstacles in trying to find gems this late in the process.
"The challenge now is that a lot of the recruits have narrowed down their lists or they've made their decisions," Limback said. "So we've had to contact coaches, and Coach (Marty) Kohlwey and Coach (Dustin) Weber have done a great job of building a list of recruits. Joining the staff last week, we were behind because the head coach (position) was vacant.
"We've definitely made some progress. We've had a couple commitments already."
The former Omaha World-Herald Nebraska Player of the Year has adapted his coaching methods in part through his many influences in the profession. He credits his college coach Grant Schmidt as well as Concordia Director of Athletics Devin Smith, Evansville University head coach Marty Simmons (whom Limback worked under at SIU-Edwardsville) and University of Michigan head coach John Beilein, among others, with helping to shape him as a coach.
These experiences have taught Limback life lessons beyond basketball and helped strengthen his faith. Through it all, he has learned how to run a program and become well-versed on what values to instill in his players and what strategies to employ on the court.
"We're a team, we're a family," Limback said. "I really emphasize that with the guys. Everything we do, I want them to be thinking about how they can make the team better. That starts everything. Offense, defense – we're always together."
Schematically, Limback wants to push the ball up the floor into a scoring position quickly and play tough man-to-man defensively. In the half-court, Concordia figures to run a motion offense borrowing some of the tenets of what he learned under Simmons.
"We're going to push. We're going to be up-tempo," Limback said. "It doesn't matter if we shoot with five seconds on the shot clock or if we still have 30 seconds left on the shot clock. I just want to get a high-percentage shot."
For now, Limback tries to fit these pieces together as his family rides out the rest of the school year in Ann Arbor. His wife Kelley and his four children – Leighton, Malachi, Kennedy and Emerson – will soon join him in the Seward community and as part of the Bulldog family.
"We're all excited about the opportunity," Limback said. "We're a basketball family. My wife comes from a coaching background so she understands the importance of why I'm here the first couple weeks and they have to finish there.
"It's challenging. Not being around your family is difficult, but that's why it's so awesome to have the Bulldog family here to interact with them."