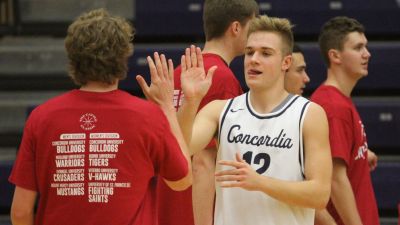 STERLING, Kan. – The Concordia University men's basketball team was right there with a chance to run its record to 5-0 for the first time since the 2004-05 season. Sixteenth-ranked Tabor College simply made more plays down the stretch, ending Saturday's (Nov. 11) game with the final six points to eke out an 82-77 win over the Bulldogs on the second and final day of the Warrior Classic hosted by Sterling College.
Fifth-year head coach Ben Limback's squad had been in similar positions already this season having won three games by margins of six points or less. Concordia will look ahead to conference play with an overall record of 4-1.
"We ran a really good offense minus a few turnovers here and there that we have to get cleaned up," Limback said. "I thought the story of the game was we fouled too much in the second half. They shot 26 free throws in the second half and made a lot of those. That really allowed them to stay in the game. Down the stretch they made some plays where they got to the free throw line."
A sophomore-laden Bulldog bunch certainly hasn't backed down during pressure-packed moments in the clutch. It appeared Concordia might pull another one out of its hat when Jake Hornick drove for a layup, drew a foul and converted a three-point play to give the Bulldogs a 77-76 lead in the final minute. Jordan Horstick then picked a good time for his only four points of the game, sinking four free throws in the last 32 seconds. On the other end, Concordia came up empty on its two closing possessions.
The Bluejays (1-3) picked up their first win of the season while riding guard Julian Winton, who put up a game high 26 points and was nearly automatic from the free throw line (11-for-12). As a team, Tabor went 23-for-29 (.793) from the charity stripe compared to 14-for-22 (.636) free throw shooting by the Bulldogs. The Bluejays were also a plus-10 in turnover margin (17-7).
Sophomore Clay Reimers helped Concordia make a second half push just as it did in Friday's 79-75 win over Sterling. Reimers has established himself as a force in his second season. He's averaging 18.2 points and 8.2 rebounds after posting 15 and eight on Saturday. Three other sophomores joined him in double figures: Tanner Shuck (14), Hornick (13) and Cordell Gillingham (12). The Bulldogs shot 51.9 percent (27-for-52) from the field and led by as many as eight points in the second half.
Through the first five games that will lead into GPAC action, there's a lot to like for a program that endured significant losses from graduation.
"The big message was that when we're locked into what we can control and take care of the basketball, we have a good chance this year to be competitive in our league and compete with the best," Limback said. "We're all pretty jacked for our next game on Wednesday."
Wednesday's (Nov. 15) matchup will feature Concordia hosting Midland (4-1) at 8 p.m. CT. The Bulldogs are 2-0 at home this season with the wins coming at last week's Cattle Classic over Mount Mercy University (Iowa) and Evangel University (Mo.).