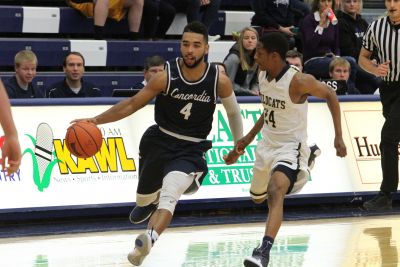 Late Concordia rally not enough versus No. 23 Hastings
SEWARD, Neb. – A 17-2 spurt early in the contest lifted 23rd-ranked Hastings to a comfortable margin that it maintained throughout most of Tuesday, allowing the Broncos (7-1, 4-0 GPAC) to remain perfect in conference play. Concordia's rally came up short as Hastings won 78-71 inside Walz Arena. The Bulldogs are now 2-6 overall and 0-3 in league action.
After trailing by as many as 21 points with as little as six-and-a-half minutes to play, first-year head coach Limback liked the way his team finished the game.
"I did like the way we competed tonight," Limback said. "I thought we came out with good intensity. We just made too many mistakes.
"I was pleased with our effort defensively."
Concordia got better results on the defensive end after allowing its first two GPAC opponents to shoot better than 50 percent. The Bulldogs actually outshot Hastings, 49.1 percent to 41.7 percent for the night. The Broncos made up for that difference with a 41-29 rebounding advantage and by draining 19 of 26 shots from the foul line.
A Hastings squad that started all seniors simply appeared more ready for primetime than the group of Concordia youngsters still trying to find themselves.
"We've got to grow up," Limback said. "There are a lot of mistakes that we've been making the last three or four games. We've got to start growing up quicker, but tonight we did have better effort and better intensity."
Head coach Bill Gavers' Broncos built a sizeable lead by getting contributions from a host of players. Hastings had six players with eight or more points, led by the 17 from Tobin Reinwald, who came off the bench. Zach Lenagh also had a good night in a reserve role with eight points and 12 boards.
Concordia sophomore Robby Thomas enjoyed a solid overall night with eight points, eight rebounds, six assists, three blocks and on steal. The stat-sheet stuffer from Shawnee, Kan., bumped his GPAC-leading block total to 21 on the season.
In addition, senior guard Adam Vogt dropped a game high 21 points, including a 3-pointer just before the final buzzer, and freshman big man Chandler Folkerts banked 16 points.
"We wanted to get the ball inside more to Chandler and Robby," Limback said. "Robby's got the ability to make plays for us. I think as we get more comfortable with each other we'll be able to get the ball better to both of those guys."
Concordia ended the game on a 19-7 run to close the final deficit to seven. Vogt scored 12 of his 21 points during this final push. He drained three triples in the closing 2:01 of game time.
The Bulldogs will have the rest of the holiday week off. They will look to put behind a tough start to GPAC play when they travel to Crete to take on Doane (4-5, 0-4 GPAC) at 8 p.m. on Wednesday, Dec. 4. The Tigers, who dropped an 89-65 contest at No. 8 Midland on Tuesday night, have won the last three meetings with Concordia.