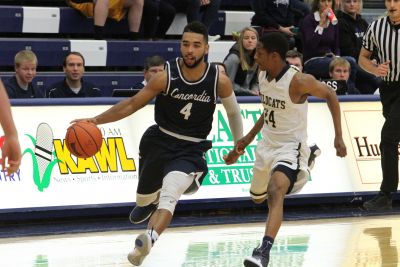 Last-second three sends CUNE to CIT title game defeat
ANN ARBOR, Mich. – Despite a sluggish offensive first half, the Bulldog men's basketball team rallied late to tie host Concordia University-Ann Arbor before freshman Alec Turner drained a trey to lift the Cardinals to a 52-49 Concordia Invitational Tournament title game victory on Saturday night. The 64th annual CIT marked the third-straight title game appearance for CUNE.
The Cardinals (15-8) celebrated their third all-time CIT title on their home court. Their previous two championships came under second-year Bulldog head coach Ben Limback, who stood at the helm of the CUAA program for nine seasons. CUNE dropped to 13-12 overall after falling short in its bid for a 26th CIT title.
"It was a great game. I think the fans and everybody had a good time," Limback said. "We made some plays at the end to get back in it. The last three minutes I really felt like we had the momentum and we were making some confident plays.
"You have to hand it to their kid. He hit a big shot."
The Bulldogs, who fell behind by as many as 14 points, made a significant rally just as they did at the 2014 CIT when they erased an 18-point Cardinal lead en route to a 73-61 win in the opening men's game of the tournament. On Saturday, buckets in the final 2:15 by Chandler Folkerts and Robby Thomas twice pulled CUNE even with the Cardinals.
In the game's waning moments, CUAA came out of a loose ball scramble with a timeout. The Cardinals then wound the clock down and set the stage for Turner's game-winning shot from the left wing that left only a half second.
Turner's heroics broke the hearts of a Bulldog bunch that nearly overcame a season low point total. CUNE fought its way back in part by riding the hot hand of sophomore guard Eli Ziegler. The native of Littleton, Colo., went 4-for-6 from downtown. Ziegler connected on three of his triples during a 13-2 run that tied the game at 47 with 2:15 left.
"He stepped up and hit some big shots last night and tonight," Limback said of Ziegler. "We'd obviously like to see that continue. Other guys who didn't have it tonight, we need to step up."
Senior Joel Haywood represented the Bulldogs on the all-tournament team. He tallied 10 points, six rebounds and five assists in 36 minutes of action. Sophomore Chandler Folkerts just missed his seventh double-double, recording eight points and 10 rebounds.
With three blocks on the evening, Thomas ran his season total to 61, moving him past Glen Snodgrass for the program's single-season rejection record.
A solid Bulldog defensive effort limited the Cardinals to 39.3 percent shooting. Head coach Ricky Yahn's squad got a team best 12 points from Josh Fugate. Tournament MVP Andrew Patrick chipped in seven points and dished out five assists.
The Bulldogs have completed a busy period of three games in four days and now look forward to a return to Walz Arena where they will host Nebraska Wesleyan (9-10, 6-8 GPAC) on Wednesday. Tipoff is set for 8 p.m. Concordia won this season's first meeting with the Prairie Wolves, 96-78, in Lincoln on Dec. 10. Red hot Nebraska Wesleyan has won seven of its last nine games.
CIT All-Tournament Team
MVP – Andrew Patrick, CUAA
Brett Boettcher, CUW
Kylan Anderson Jr., CUC
Joel Haywood, CUNE
Josh Fugate, CUAA