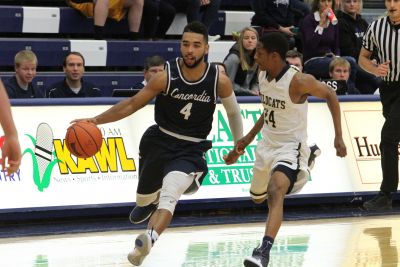 Kooima's trey lifts Northwestern over Concordia in OT shootout
SEWARD, Neb. – A high-scoring emotional rollercoaster unfolded in the waning moments of Saturday afternoon's affair between the Concordia University men's basketball team and visiting Northwestern. Ultimately, the Red Raiders' arsenal featured a tad more firepower as Colton Kooima's overtime 3-pointer lifted Northwestern to a 108-106 shootout victory inside Walz Arena.
Playing at home for the third-straight game, the Concordia University men's basketball team dug itself a 14-3 hole out of the gates before recovering to make it a nip-and-tuck affair in the second half. Second-year head coach Ben Limback's squad fell to 10-9 overall and 5-7 in conference play following a contest that featured two teams separated by only a half-game at tip off.
"What it came down to in the end was we really battled and executed at the end of regulation. We did a great job of putting ourselves in position to go to overtime," Limback said. "Then they out-executed us in overtime. We had a couple errors down the stretch and they made the plays and hit a big shot at the end."
The Bulldogs' biggest lead of game came in overtime when Eli Ziegler's pair of free throws pushed Concordia's advantage to 106-101 with 1:37 left. A triple from Northwestern's TJ Buyert and one free throw soon made it a one-point game. A critical Bulldog turnover on the next possession set the stage for Kooima's game-winning bomb that left only three ticks on the clock.
Concordia simply couldn't come up with enough stops against a Red Raider team that shot 50.6 percent for the game.
"We have to get better in transition defense. We have to get back," Limback said. "I thought in the start of the game we let them get loose and it gave them confidence and a rhythm.
Down 90-86 in the final minute of regulation, Concordia surrendered what seemed like a back-breaking trey by Kooima. Improbably, the Bulldogs forced overtime thanks to Micah Kohlwey's 3-pointer from deep on the left wing that tied the score at 96 with :2.1 left in regulation. The extra session was also made possible by a personal 5-0 Joel Haywood run over the last 30 seconds that set up the opportunity to tie with a three.
Haywood and reigning national player of the week Chandler Folkerts were again the stars of the show for Concordia. Folkerts equaled a career high 26 points to go along with seven rebounds and five blocks. Haywood posted an impressive line of 22 points, nine assists, seven rebounds and four steals.
"Chandler's in the zone," Limback said. "As players we all want to be in the zone, and Chandler's in the zone. He's doing a lot of things for us. And Joel had an amazing game. He got the game ball tonight – near triple double for him. He logged 39-plus minutes in a game like that – tremendous effort."
Kohlwey added 15 points and Rudy Knight came up with 10 points. Ziegler finished with nine points, four rebounds and four assists.
Northwestern got 19 points from both Buyert and Nathan Wedel. Jordan Baker posted a double-double with 14 points and 13 rebounds.
The Bulldogs are off until next Saturday (Jan. 17) when they head northeast to play at No. 18 Briar Cliff (16-4, 8-2 GPAC). Concordia is 6-3 away from home after having gone 2-0 on its recent Florida trip. In the first meeting with the Chargers, the visitors escaped with a 70-66 win inside Walz Arena on Nov. 18.