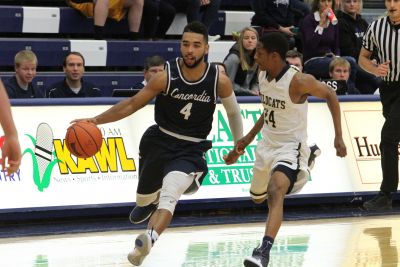 Keep up with Concordia men's basketball on road swing
The break is over for Concordia men's basketball, which resumed practicing a day after Christmas. First-year head coach Ben Limback's Bulldogs will take a dip outside the conference as they go on the road to Oklahoma and then Kansas. The slate includes another contest against a ranked foe.
SCHEDULE
Saturday, Dec. 28, 3 p.m. – Concordia at St. Gregory's
--LIVE STATS
Monday, Dec. 30, 7 p.m. – Concordia at Kansas Wesleyan
--LIVE WEBCAST | LIVE STATS
St. Gregory's University
Location: Shawnee, Okla.
Record: 9-1
National Ranking: 19th (NAIA Division I)
Head coach: John Martin (6th year)
Conference: Sooner Athletic Conference
Leading Scorer: Marty Wilkerson – 24.6 ppg
Leading Rebounder: Josiah Campbell – 9.5 rpg
Assists Leader: Wilkerson – 5.9 apg
Team Scoring Offense: 92.0 ppg (13th in NAIA DI)
Team Scoring Defense: 85.7 ppg (82nd in NAIA DI)
Kansas Wesleyan University
Location: Salina, Kan.
Record: 2-9
Head coach: Chris Fear (3rd year)
Conference: Kansas Collegiate Athletic Conference
Leading Scorer: Michael Johnson – 14.7 ppg
Leading Rebounder: Jacob Lunz – 6.9 rpg
Assists Leader: Michael Johnson – 2.5 apg
Team Scoring Offense: 74.0 ppg (88th in NAIA DII)
Team Scoring Defense: 81.5 ppg (100th in NAIA DII)
OUTLOOK
The Bulldogs will play a ranked team for the seventh time already this season when they take the court at No. 19 St. Gregory's on Saturday. The Cavaliers are in the midst of an impressive turnaround after going 7-21 overall and winless in Sooner Athletic Conference play last season. They are off to a 9-1 start led by the nation's No. 2 scorer in Marty Wilkerson. After suffering a lopsided loss in their most recent outing, Adam Vogt and the Bulldogs could turn their fortunes around with an upset win on the road. Head coach Ben Limback's crew will then focus its attention on Kansas Wesleyan two days later. It will be a rematch of last season's Cattle Classic contest in which Concordia won 84-56.
Bulldogs to watch NBA game on Sunday: Limback and his team will use the off day on Sunday to head to the Oklahoma City Thunder pro basketball game versus the Houston Rockets at Time Warner Cable Arena at 6 p.m.