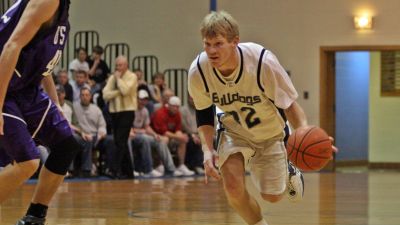 A single play significantly altered the fortunes of the 2002 Concordia University, Wisconsin football season. With the Falcons trailing 14-9 and facing a fourth and goal at the one in their regular season finale, the CUW running back fumbled the football, frittering away a shot at reaching the NCAA Division III playoffs. Believe it or not, this brief moment in time set in motion a decision that would transform the history of Concordia University, Nebraska men's basketball.
As it so often happened during revered head coach Grant Schmidt's tenure, a highly sought after recruit landed in Seward after beginning a college career somewhere else. We're talking about Bulldog basketball's all-time leading scorer, Jon Ziegler, of course.
Then a receiver who donned No. 85 at CUW, Ziegler had begun to wonder if he had ventured too far from home. Admitted Ziegler, "If it had gone the other way I might have stayed up there. Instead we were done and I ended up coming back for my sister's state volleyball tournament and watched that. I realized what I had been missing. I started to realize I was probably not going to play football anymore. I didn't want to keep doing that. That's when I called Coach Schmidt and asked if he would have room for me. He was ecstatic about it."
Roughly 15 years after that monumental decision, Ziegler is headed for the Concordia Athletic Hall of Fame – the Nebraska one that is. Everyone knew it was only a matter of time before Ziegler would join the ranks of the Hall of Fame. His accolades and statistical achievements are essentially unmatched when it comes to the history of the men's basketball program. Consider his placement on the school's all-time lists: tops in scoring (2,099), No. 2 in steals (223), fourth in rebounds (762) and eighth in assists (287).
There wasn't much that he could not do on a basketball court. The Lincoln Lutheran High School product led the Bulldogs to arguably their most glorious season ever when they reached the NAIA Division II national championship game in 2005. Oh yeah, there's also the matter of that 47-point, program standard setting performance in a stunning upset of 11th-ranked Sioux Falls on senior day in 2007. Ziegler made that intimate old PE Center Gym go bonkers. He was someone who intensely disdained losing.
"I think what made me the player I was, is how over-the-top competitive I was when I stepped on the floor," Ziegler said. "In practices it was the same way. A lot of guys could probably attest to that. I was pretty fired up during practices. I wanted to win that bad. Off the court, I'm probably one of the most laid back people out there. It was like flipping a switch once I got inside the lines."
One of Ziegler's vivid memories that actually occurred off the court illustrates that competitive fire. Ziegler and his teammates had just arrived at a hotel after a long road trip. Ziegler quickly turned on a TV only to watch his beloved Minnesota Vikings crumble in the final moments of a loss that kept them out of the playoffs. Ziegler grabbed the hotel alarm clock and threw it against the wall. Schmidt, a Green Bay Packers fan, entered the room and laughed at Ziegler, who can smile now when recalling the incident.
Said Ziegler, "He came in there solely just to rub it in. That was probably one of the funnier moments I've had with him."
More than a decade later, it's obvious the respect the two share for each other. Ziegler calls Schmidt "probably the best coach I've ever had in any sport." They had known each other for several years even before Ziegler decided to transfer to CUNE. Ziegler had played against Schmidt's oldest son Preston as a youth and high school player.
Said Schmidt, "Jon was a relentless competitor that never was intimidated by an opponent, a challenge or by a crucial situation in a game. He always rose to the occasion and rarely failed. He expected the best out of his teammates because he gave his best at all times. If you had to score, you wanted it in his hands. His ability to succeed in the critical moments was second to no one. He just got it done."
Under Schmidt's guidance, Ziegler realized his full potential. He was a scorer, a passer, a top-notch defensive hound – whatever his team needed. With a young team his senior season in 2006-07, Ziegler poured in 21.3 points per game on his way to taking over the title of the program's all-time leading scorer.
He elevated himself to legendary status on Feb. 17, 2007. Consider it The Jon Ziegler Game. In the midst of a substandard year for the Bulldogs, in terms of wins and losses, Ziegler went out on senior day with the type of fairytale ending that rarely happens in sports. The PE Center Gym was jam packed despite Concordia's 7-20 record at the time. Ziegler poured in 47 points, cracked the 2,000 mark for his career and helped sink the highly-rated Cougars in overtime, 87-78.
Ziegler did not get much of a break that day. At one point, he bent over in exhaustion and looked at his head coach. Schmidt told Ziegler that taking him out of the game was no option. Jon replied simply, "OK," and went back to work.
Ziegler insists he had no idea how many points he had scored until after the game, which is cemented in history as a signature moment for one of the program's signature stars. Said Ziegler, "I was sitting down in the locker room and (assistant coach) Anthony Elias came up to me and said, 'Do you have any idea how many points you just scored?' He said 47 and told me I broke the school record. I had no clue. I was just ecstatic that we beat the No. 11 team in the nation at home heading into the GPAC tournament."
A week later, Sioux Falls ended Concordia's surprise GPAC tournament run. When Schmidt called Ziegler to the bench, even the home fans at Sioux Falls acknowledged the greatness of a rival star whose college career had come to an end. Ziegler had long before earned Schmidt's admiration. Says Schmidt, "Jon was the ultimate competitor. He just found a way to overcome a challenge and succeed. What a wonderful blessing to be his coach."
Originally from Minnesota, Ziegler likely guaranteed future placement in the Hall of Fame on that unforgettable February day in Seward. He will be officially inducted on Sept. 21 as part of homecoming weekend at Concordia. For those in attendance who haven't met Ziegler, they will see a man of humility at the podium. A year ago, Ziegler attended the Hall of Fame ceremony and watched his good friend Jason Jisa accept his induction.
Now it's Ziegler's turn. Thirteen years after steering the Bulldogs to the national championship game, he still looks capable of giving you 20 points. What's changed? Well, the hair is trimmed shorter. An employee of Crete Carrier in Lincoln, Ziegler also has a wife Audrey and children Mauer and Olivia.
Says Ziegler, "I just feel honored. You start looking back on the memories you had here. I was out here with Jason last year. He was well deserving of it. I thought our team might get in before any of us individually. I really hope that does happen at some point in time. What that team did that year was special. It was fun to be part of it. None of the personal accolades would have been possible without all the guys I played with. I played with a lot of good guys here, a lot of guys who made me better as a player. Hopefully I, in turn, was able to do that for them."