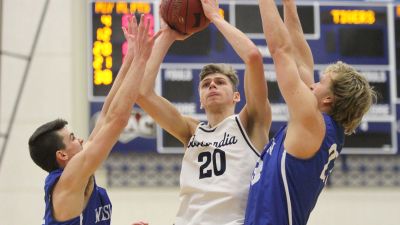 SEWARD, Neb. – Four Bulldogs represented the Concordia University men's basketball team on the all-conference teams released on Wednesday (Feb. 28) by the GPAC. Sophomores Jake Hornick and Clay Reimers earned second team accolades while fellow sophomores Cordell Gillingham and Tanner Shuck garnered honorable mention recognition for the Bulldogs, who finished the 2017-18 season at 17-13 overall.
Hornick took over the role of point guard this season and thrived. The native of Loveland, Colo., averaged 14.7 points, 5.1 rebounds and 4.0 assists while shooting 47.7 percent from the field, 36.6 percent from 3-point range and 78.8 percent from the free throw line this winter. A starter in all 30 games, Hornick racked up a career high 30 points in a win at Robert Morris University on Dec. 29. Over the 18 conference outings, Hornick averaged 12.6 points, 4.9 rebounds and 4.1 assists.
One of the top post players in the GPAC, Reimers also took a leap forward in his sophomore campaign. Over 29 games, Reimers averaged 15.6 points, 8.6 rebounds and 1.31 blocks per game while shooting 60.9 percent from the floor and 66.4 percent from the free throw line. Among conference players, Reimers ranked first in double-doubles (10) and rebounding and second in blocks per game and field goal percentage. Reimers produced a career high 26 points on back-to-back days (Dec. 29-30) and earned NAIA national player of the week honors. He also collected a CIT all-tournament award.
Gillingham, who hails from Greeley, Colo., moved into a starting role this season after playing a total of 82 minutes as a freshman. One of three Bulldogs to start all 30 games, Gillingham averaged 8.8 points, 4.3 rebounds and 2.9 assists. He shot 48.6 percent from the field, 33.7 percent from beyond the arc and 61.9 percent from the foul line. Gillingham was responsible for one of the season's most memorable moments. He nailed an overtime buzzer beater to knock off Doane in Crete.
The team's top outside shooting threat, Shuck drilled a Bulldog best 74 treys this season. He averaged 13.0 points, 2.9 rebounds and 2.0 assists while posting shooting percentages of 44.6 from the field, 37.3 from 3-point range and 72.0 from the free throw line. Shuck's 29 points at Dakota Wesleyan were a career best. He reached the 20-point mark five times this season.