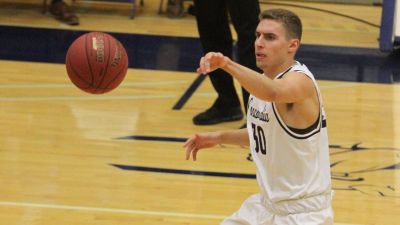 CHICAGO, Ill. – After two weeks without playing a game, the Concordia University men's basketball team knocked off the rust by returning to action in the Windy City on Friday afternoon (Dec. 29). Sophomores Jake Hornick and Clay Reimers spearheaded a 17-0 second half run that allowed the Bulldogs to come from behind for a 106-101 win at Robert Morris University, a program that reached the national semifinals as recently as 2014.
Fifth-year head coach Ben Limback's squad moved to 10-3 overall. Concordia had not played since a 111-103 loss at No. 11 Northwestern on Dec. 15.
"I thought they responded well (to the layoff)," Limback said. "We had a great practice yesterday. You never know what will happen when you come out to a new city, you do all these fun activities and then you throw a practice in there. This group really locked in so I felt confident coming into this game that our guys knew we weren't just on a vacation. Some of the new guards Robert Morris has gave us some trouble but I felt like after the first half, our guys played more our style."
Hornick and Reimers were a two-man wrecking crew, combining for 56 points. When the Bulldogs needed a big bucket to fend off the late Eagle charge, Hornick did the honors. The point guard from Loveland, Colo., poured in six crucial points over the final two minutes with Robert Morris (5-9) breathing down Concordia's neck. A 17-point Bulldog lead melted all the way down to three (92-89) with 2:41 left as RMU guard Chelby Frazier attempted to power the Eagles back from the dead.
It was a valiant crunch time effort by Robert Morris. It just couldn't stop a Bulldog squad that shot 56.9 percent from the floor. The crucial 17-0 Concordia splurge began with a triple from Hornick, who tallied 27 of his career high 30 points after halftime. On the next possession, Hornick dished to Reimers, initiating a three-point play to extend a lead that was never relinquished. Reimers went for a career best 26 points to go along with 12 rebounds. He recorded his fifth double-double of the season before fouling out.
The Bulldogs trailed 46-41 at halftime and faced their largest deficit (48-41) early in the second half. They still stared down a disadvantage with under 12 minutes to go before Riley Tegtmeier responded with a layup and Hornick canned one of his four 3-point field goals. Hornick had help from Reimers and three additional teammates with double-figure scoring outputs: Tanner Shuck (14), Kyle Pierce (11 points, 10 rebounds, three blocks) and Chris Johnstone (10) off the bench. Limback also made special mention of sophomore guard Cordell Gillingham, who dished out eight assists and grabbed seven rebounds.
Robert Morris has been a NAIA powerhouse, reaching the national semifinals seven times since 2002 under previous head coach Al Bruehl. The Eagles are now under the direction of first-year coach Othyus Jeffers. Frazier topped Robert Morris with 18 points on Friday. Five of his teammates also eclipsed 10 points, including backcourt mate Ryan Matthew (17).
While the Eagles went with a lineup almost exclusively of guards, Concordia's star guard shined brightest. No. 30 got 30.
"Jake was a big part of our run," Limback said. "Second half – he really played well. He did a better job of controlling the offense, attacking, scoring and getting to the free throw line. He was amazing in that second half and I think Clay and some other guys really fed off that."
The Bulldogs will remain in the Chicago area on Saturday to finish up the road trip. Concordia will head to nearby Elgin for a 5 p.m. CT matchup with Judson University (6-9). The Eagles will carry a three-game win streak into the contest. The game can be viewed live online HERE.