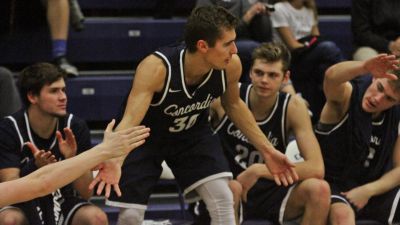 SEWARD, Neb. – Through the first three games of the early season, the Concordia University men's basketball team has proven it can win in a variety of ways. Even when the offense went stale, the Bulldogs tightened the screws on defense and held off a late rally from visiting Evangel University (Mo.) in a 75-69 win on Saturday evening (Nov. 4) as part of the 18th annual Cattle Classic.
So far so good in regards to sophomore Jake Hornick's new role as a point guard. The native of Loveland, Colo., has now steered fifth-year head coach Ben Limback's squad to a 3-0 start. This one was a grinder.
"We really rely on our defense a lot," Hornick said. "About the five-minute mark, our offense really wasn't getting anything at all, but we really got on the defensive end. Riley (Tegtmeier) did really well locking down 15 (Luke Call). Cordell (Gillingham) had a good game defensively and Tanner (Shuck) as well when he guarded 24 (Justin Washington)."
With 12:10 remaining in the game, Concordia held a 59-49 lead. With just 28 seconds left, that advantage had been whittled down to just two (71-69) after a pair of Jalen Norman free throws. With the calmness of a veteran, Hornick followed by knocking down two from the charity stripe and a stop on the other end sealed a second-straight victory over a NAIA Division I opponent.
Hornick and fellow sophomore Clay Reimers have been undeniably impressive in the early going. Both were named to the All Cattle-Classic team on Saturday. In the latest victory, Hornick contributed 19 points, seven rebounds and five assists. He's now averaging exactly 20 points per game. Meanwhile, Reimers collected 11 points, eight rebounds and five assists.
The budding sophomore class was responsible for 65 of the team's 75 tallies.
"Looking back a year ago, some of these guys weren't even getting any varsity time at all," Hornick said. "We all got together this summer and worked really hard together. We just want it bad. I think we're a special group and we're going to go a long way."
Evangel (0-2), a member of the Heart of America Athletic Conference, is coming off a 13-17 season in 2016-17. The 6-foot-5 Washington kept the Crusaders close. He poured in 20 points and hauled down 11 rebounds for a squad that shot 43.5 percent (27-for-62) from the field but just 46.7 percent (7-for-15) from the foul line.
Concordia ended up at 47.1 percent (24-for-51) from the field and 66.7 percent (18-for-27) from the free throw line. Shuck dropped in 13 points on 5-for-9 shooting. Gillingham had a nice night, putting up nine points, seven rebounds and four assists in 26 minutes. Tegtmeier tossed in eight points off the bench.
The Bulldogs will road trip it to Kansas next weekend for contests at Sterling College (Nov. 10) and at Tabor College (Nov. 11) in two matchups with Kansas Collegiate Athletic Conference teams. Concordia already owns one road victory over a KCAC team having come back to defeat Kansas Wesleyan University, 75-72, in Monday's season opener.
All-Cattle Classic Team
Mychael Brawner-Henley, Mount Mercy
Jake Hornick, Concordia
Clay Reimers, Concordia
Justin Washington, Evangel
Nick Wood, Midland