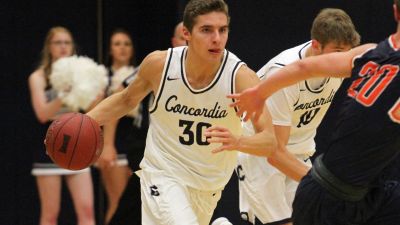 SEWARD, Neb. – Without a key piece instrumental in its 4-1 start to the season, the Concordia University men's basketball team made up for it by canning 3-point field goals by the bushel – 15 of them to be exact. The Bulldogs even absorbed a second half push from visiting Midland and emerged victorious from their GPAC opener, 86-72, on Wednesday night (Nov. 15).
Fifth-year head coach Ben Limback's squad has now claimed wins this season over two teams that earned national tournament bids last season. Concordia has won five of its first six contests in a stretch that some may find surprising for a team picked eighth in the GPAC.
"It was a gutsy performance. I feel like the guys really came together and executed everything we talked about," Limback said. "We shot the lights out, which always helps. I was really proud of our guys with how hard they played. I feel like they really wanted this one."
It's fair to title sophomore point guard Jake Hornick the team MVP of the early season. The sophomore from Loveland, Colo., has been filling up the stat sheet. It seemed fitting when his long 3-pointer in the closing seconds found the bottom of the net, providing an exclamation mark. Hornick could do no wrong. He just missed a triple-double, going for 20 points, nine assists and eight rebounds in 37 minutes of action.
Said Hornick, "When we played Tabor (on Nov. 11), we weren't getting rebounds and making hustle plays that we were tonight. Everyone played with so much effort. I couldn't be more proud of everyone."
The Warriors (4-2, 0-1 GPAC) appeared in danger of being routed in the second half with Concordia leading 51-34 at the 16:03 mark. Just four minutes later, Midland trailed by two (52-50) thanks to a 16-1 splurge. Sophomore Ryan Williams did his part in trying to keep the Warriors close. He piled up 20 points and 11 rebounds. Williams and TK Dixson completed the aforementioned run with back-to-back treys.
Concordia answered impressively, pouring in 3-point bombs on three-straight possessions to regain a double-digit lead. The triples were delivered by Cordell Gillingham, Chris Johnstone and Kyle Pierce before Midland even realized what hit it. Even a late surge by Dixson couldn't save the Warriors because the 3's kept raining in from the other end. Zach Friel, who made his first career start as a Bulldog, dropped a dagger of a trey at the 3:09 mark that made it 78-67.
"I thought the ball was moving well," Limback said. "We spread them out. It was great to see Chris Johnstone come out and have a great game. He really got us going offensively. They're a good team, and I feel like we did some good things. There was just a lot of scrappiness tonight."
Johnstone threw in 17 points while going 4-for-5 from deep. Tanner Shuck added 12 points, Kyle Pierce chipped in 10 points and six rebounds and Friel notched nine points. Riley Tegtmeier contributed eight points off the bench. Concordia shot an otherworldly 15-for-26 (.577) from 3-point land and was nearly spotless from the free throw line (13-for-15).
On the other end, Midland shot 45.6 percent (26-for-57) from the field and struggled from the charity stripe (10-for-18). Dixson (16) and Chase Parsons (14) joined Williams as Warriors to post double figures in scoring.
Clay Reimers may not have played on Wednesday, but his teammates had his back. "We just had to play our game," Hornick said. "Obviously Clay's a big piece to the puzzle. We love him. He'll be back with us (Saturday)."
A difficult road test awaits on Saturday when the Bulldogs will journey to Mitchell, S.D., for a 4 p.m. CT tipoff at No. 10 Dakota Wesleyan (4-3, 1-1 GPAC). Last season's regular-season meeting in The Corn Palace resulted in a memorable 109-106 overtime win for Concordia. The Tigers began GPAC play on Wednesday with a 73-67 loss to Dordt.