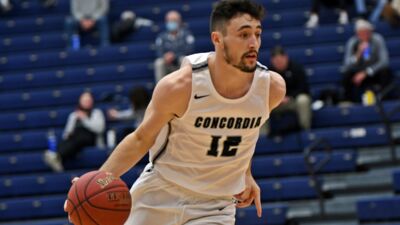 SEWARD, Neb. – Something had to give entering a matchup that featured a 12-game home win streak for the Concordia University Men's Basketball team and a 10-game series win streak for visiting Morningside. Unfortunately, the Bulldogs fell at home for the first time since last January while allowing the 15th-ranked Mustangs to shoot 60.7 percent from the floor. Morningside made its first seven 3-point attempts on the way to a 95-77 win in Seward on Saturday (Jan. 16).
This was a big one in terms of the hopes for Head Coach Ben Limback's squad to claw back into the GPAC regular-season title race. Concordia (13-7, 10-5 GPAC) currently resides in fourth place in the conference standings.
"They played really well. Morningside was good tonight," Limback said. "They only make about six threes per game and they came out and hit that in the first half. I didn't like how we handled it. Our game plan was to try to limit them inside. They came out and were good from the 3-point line and it bothered us a little bit with our body language. Defensively we didn't get stops when we needed to and they put together huge runs."
Based on the results this season and the last several years, the Mustangs (15-2, 11-2 GPAC) just aren't a good matchup for the Bulldogs. The 95 points allowed represented a season high for Concordia opponents. Morningside seemed to have little trouble finding the shots it wanted. Six of its players scored in double figures as part of a sizzling performance. The visitors wound up 10-for-16 (.625) from beyond the arc.
The Bulldogs crept back into the game with a 10-2 run in the middle part of the second half. The spurt that included a trey apiece from Carter Kent and AJ Watson cut a 15-point deficit down to seven (73-66). The Mustangs called timeout and proceeded to slam the door shut. Morningside owned a double-digit advantage for the final 6:22 of game time.
Gage Smith paced Concordia with 19 points and eight rebounds. It marked the first time this season that the Bulldogs have lost when Smith has scored 15 or more. In addition, Justin Wiersema posted 18 points and three steals, Ryan Holt turned in 11 points and four rebounds and Grant Wragge (10 points on 5-for-5 shooting; four steals) brought plenty of energy off the bench. Sam Scarpelli chipped in with eight points.
"Wragge came in and did some great things, Gage got to the free throw line and Justin was steady as he always is," Limback said. "We have to learn from this. We had some momentum plays in the second half where we could have made it really interesting. We cut it to seven at one point, but they're a good team."
Trey Powers went a perfect 6-for-6 from the floor (3-for-3 from 3-point range) and led the Mustangs with 18 points. Star post player Trey Brown put up 17 points and 10 rebounds (11th double-double) while Will Pottebaum added 15 points while netting three treys. Morningside has won five in a row to move back to the top of the GPAC standings.
The Bulldogs will have the middle of next week off while focusing their attention on next Saturday (Jan. 23)'s home clash with Briar Cliff (11-8, 8-6 GPAC). Tipoff from Friedrich Arena is slated for 4 p.m. CT. Concordia hopes to make amends for its 89-75 loss to the Chargers that took place in Sioux City, Iowa, on Dec. 5. Briar Cliff has won six of its last seven outings.