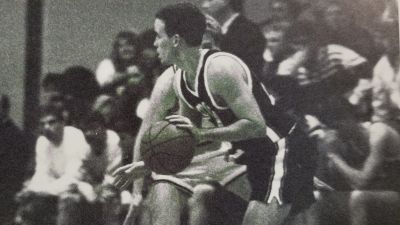 In the year prior to transferring to Concordia, Mike Works remembers watching his future teammates get blown out against a highly rated opponent in a game played in Blair, Nebraska. It was the 1988-89 Bulldog men's basketball season and the program had yet to ever reach the national tournament. A youthful team wound up 7-23 overall while facing a daunting schedule.
The losses didn't deter Works, who was thrilled to join fellow Lincoln natives and close friends Matt List and John Puelz at Concordia. A former walk-on for the Nebraska men's basketball team, Works also knew that his best chance for playing time would be somewhere else.
Says Works, "It was a great experience (at Nebraska), but I also knew that if I stuck around for four years I was going to play for two minutes per game at the end of games as a senior. That's not what I wanted to do. I wanted to go play some place. Grant Schmidt came calling and I already had a couple buddies there – John Puelz and Matt List were really, really good friends. They were both on the team so it was a pretty easy decision."
Works may not have realized it then, but he was the missing link for a program that had featured eight sophomores and two freshmen in 1988-89. Works' first season coincided with Schmidt's first year as a collegiate head coach. Things were about to get fun. Works piloted the Bulldogs to national tournament appearances in 1991 and 1992 in ground-breaking seasons. As Schmidt says, Works could sometimes be the most valuable player on the court even if he wasn't scoring.
A month ago, Works was officially announced as a member of the Concordia Athletic Hall of Fame Class of 2018. He will join company that already includes former teammates in List, Puelz and Devin Smith. Six years ago, the 1991-92 squad garnered enshrinement 20 years after it blazed a trail with a run that ended in the national semifinals. It only seemed right for Works to make his way into the Hall individually. After all, he was the Lincoln Journal Star State College Player of the Year in 1992.
"It's definitely a proud moment," Works said of the Hall of Fame selection. "I never expected it to happen. Those guys (List, Puelz and Smith) all had incredible numbers and definitely deserved it. I'm just happy I can go in with so many members of our team. Concordia still holds a special place in my heart. I've got a son who's going there. I don't have a negative thing to say about Concordia. I loved my time there. This is just kind of icing on the cake."
Works did forego a season of eligibility after 1991-92, but still managed to pile up 1,039 points, 496 assists and 194 steals over his 98 games as a Bulldog. Works reached the 1,000-point mark, but also facilitated other 1,000-point scorers in Puelz (1,955), Smith (1,659) and List (1,608). It's fair to say that Works was the straw that stirred the drink.
During that 1991-92 season that set a new standard for the program, Works dished out 194 assists compared to only 65 turnovers. Twice he dropped 11 dimes in a game, including once in another of those classic battles with rival Hastings.
"When I took over as head coach I had a lot of the pieces but was missing a floor general," Schmidt said. "Mike was that missing piece. He turned a very good group of players into a championship team. His ability to initiate the offense and eliminate turnovers is a coach's dream. His court sense and vision along with the ability to anticipate not only his own player's moves but to also anticipate his opponents was intuitive and something you cannot teach. He could play at a high level of emotion and yet temper the emotions of his teammates and even his head coach to remain focused and stay on task."
Some of Works' fondest memories on the court were the high intensity matchups with Hastings, another regional power of the time. A watershed moment for the program occurred on March 5, 1991, when the Bulldogs took down the Broncos, 81-71, in Hastings for the NAIA District 11 crown, clinching the first-ever national tournament appearance for Concordia. The 6-foot-1 Works pulled down 11 rebounds in that contest.
Works also has a great recollection of the many moments spent with Schmidt, then a very young head coach. More than two decades later, it's as if Works wants to apologize for a couple of things that may have caused grief for a coach Works said was "wonderful to me." In one instance, Works forgot his jersey during a road trip in California and was not allowed to play. In another case, Works and List showed up for a Saturday morning TV interview with appearances that Schmidt did not believe properly represented the school.
Works appreciated his head coach for such teachable moments and for all of the more thrilling memories. The addition of Works helped form a team that not just qualified for the national tournament, but put together a serious run at a national title banner in March of 1992. It was really just a bunch of close friends having the times of their lives.
"I think we still take pride in that we helped turn Concordia around," Works said. "For a number of years there were a lot of good players that came in from Lincoln. We took pride in that. That was fun. It was exciting to do it all together. When I got there Devin was only a sophomore, Puelz was a sophomore. (Todd) Voss was a sophomore. List was a junior. We all got to play a lot together, which was great."
Concordia was a stepping stone to a successful career as a businessman for Works, who is husband to Kelly and father to Lauren, Conner, Duncan and Grady. Lauren played basketball at Creighton and Conner is a current member of the Concordia tennis program.
Schmidt has no doubt that Works has set an example of his children to follow.
Said Schmidt, "Not only was Mike skilled in so many ways as a basketball player, but he truly was one of the kindest and most respectful Christian young men I could have known. What a blessing he was to this program. You couldn't get mad at him. He was always a gentleman and he seemed to always make the right decisions."