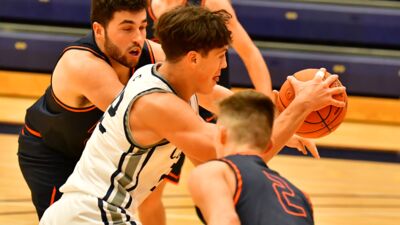 SEWARD, Neb. – What was billed as the NAIA Hoops Report Game of the Week fell flat on Tuesday (Nov. 22) evening. Led by Mason Walters, No. 5 Jamestown dropped the hammer on the 23rd-ranked Concordia University Men's Basketball team in a 90-59 blowout inside Friedrich Arena. The Bulldogs were limited to 33.9 percent shooting, made only two 3-point field goals and never recovered after falling behind 34-12 in the first half.
The loss snapped a 23-game home win streak for Head Coach Ben Limback's program. During that run, Concordia (5-1, 3-1 GPAC) had beaten the Jimmies twice inside Friedrich Arena.
One could sense early on that this wasn't going to be the Bulldogs' night. Even the open looks that Concordia got would not fall. Jamestown proved to be the more energetic and aggressive team and even had a first half possession in which it hauled in four offensive rebounds. Of course Walters is typically always going to get his numbers, but the Jimmies also netted 13 3-point field goals and owned a 44-38 rebounding advantage for the night.
Too much of the onus fell upon the Bulldog frontcourt to generate offense. Noah Schutte and Tristan Smith notched 17 points apiece. Tristan Smith tried to keep Concordia afloat by attacking the rim for 13 of his points in the opening half. His older brother Gage Smith contributed seven points, eight rebounds and two blocked shots. Meanwhile, the starting backcourt combined for five points on 2-for-6 shooting from the floor. The Bulldogs did manage to get to the line for 25 free throws (made 17).
Jamestown (5-1, 2-1 GPAC) pushed the lead to as many as 33 points in the second half, which felt like a scrimmage in its latter stages. Walters powered home 33 points and added nine rebounds, six assists and two blocks. Three other Jimmie starters reached double figure in the scoring column: Reid Gastner (13), Cole Woodford (13) and Marc Kjos (10). Gastner pulled in nine rebounds of his own in narrowly missing a double-double. Jamestown shot 47.3 percent (35-for-74) for the game.
This was a rematch of the 2022 GPAC tournament title game won by Concordia, 77-70. The Bulldogs won all three meetings with the Jimmies during the 2021-22 season. Prior to Tuesday, the most recent Concordia home loss came to Morningside on Jan. 16, 2021.
The Bulldogs will attempt to regroup on Saturday as they head to Forest City, Iowa, for a 3 p.m. CT matchup with Waldorf University (3-4). The two sides met last season at the Cattle Classic with the result being an 89-72 win for Concordia.