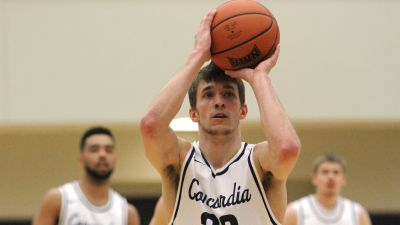 SEWARD, Neb. – The Concordia men's basketball team will open the GPAC Tournament this week in Mitchell, S.D. The Bulldogs will travel north to take on 15th-ranked Dakota Wesleyan for an 8 p.m. tipoff on Wednesday.
GAME INFO
Concordia (18-11, 10-10 GPAC) at No. 15 Dakota Wesleyan (21-9, 13-7 GPAC)
Wednesday, Feb. 24 | 8 p.m.
Site: The Corn Palace | Mitchell, S.D.
Webcast: Stretch Internet
Live Stats: Stretch Internet
Radio: 104.9 Max Country
Last time out
The Bulldogs closed out their regular season last weekend. Concordia traveled to No. 6 Briar Cliff on Saturday and was handed a 98-84 loss. The squad finished its regular season with an overall record of 18-11 and a 10-10 conference mark.
The matchup
The Bulldogs and Tigers have met up twice this season. Dakota Wesleyan took both games, 92-80 in Mitchell and 84-80 in Seward. Through the regular season, Concordia is shooting .505 from the field and .352 from behind the 3-point line. The Bulldogs average 85.9 points and 38.7 rebounds a game. Dakota Wesleyan has recorded a .478 field goal percentage a .376 percentage from 3-point range. The Tigers are averaging 88.3 points and 33.2 rebounds a contest.
Junior Chandler Folkerts leads the Bulldogs in scoring, averaging 19.9 points per game and in rebounding with 8.6 boards per game. Folkerts also has a team leading .668 field goal percentage with at least 100 attempts. Eli Ziegler leads in the 3-pointer categories, averaging 2.4 per game with a 40.5 percentage from behind the arc.
The Tigers have five players averaging double-digit scoring efforts. Trae Bergh leads the team, averaging 21.7 points per game. Jade Miller puts up 19.4 points per game while Tate Martin averages 15.1 points a tilt. Leading the squad in rebounding is Terrell Newton who averages 6.1 boards a contest.
Up next
The winner of the Concordia and Dakota Wesleyan tilt will play the winner between second-seeded Nebraska Wesleyan and seventh-seeded Dordt on Saturday in the GPAC Semifinal game. A full schedule for the GPAC Tournament is listed below.
Quarterfinals – Wednesday, Feb. 24
No. 8 Northwestern at No. 1 Briar Cliff
No. 7 Dordt at No. 2 Nebraska Wesleyan
No. 6 Concordia at No. 3 Dakota Wesleyan
No. 5 Hastings at No. 4 Midland

Semifinals – Saturday, Feb. 27 – location at highest remaining seeds
No. 8/1 winner vs No. 5/4 winner
No. 6/3 winner vs No. 7/2 winner

Championship – Tuesday, March 1
Semifinal winners at highest remaining seed