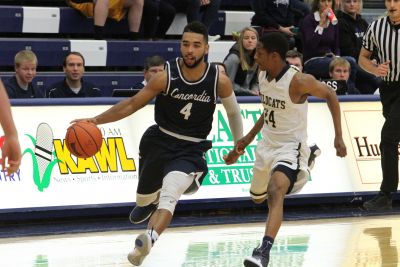 GPAC-leading Defenders outmuscle Bulldogs
SEWARD, Neb. – A high-octane Dordt team outmuscled Concordia on the glass, powering its way to a 93-70 victory over the Bulldogs in GPAC action on Saturday afternoon. The 12th-ranked Defenders (12-1, 5-0 GPAC) broke open an early 13-3 lead and coasted the rest of the way to remain unbeaten in conference play. Concordia dropped to 3-7 overall and 1-4 in GPAC games.
"We knew coming in they were going to be tough on the boards, athletic and long at every position," Concordia head coach Ben Limback said of Dordt. "We just didn't do a good enough job on rebounds. You're not going to win a lot of games doing that."
In a contest that featured a frenetic pace, the Defenders operated in machine-like fashion in shooting 47.2 percent from the field while outscoring Concordia 20-6 in second chance points and 17-8 in points off turnovers. Head coach Ross Douma's club got impressive balance as five players tallied 10 or more points, led by Dalton Franken's 21.
Standout freshman Chandler Folkerts (11 points on 5-for-7 shooting) echoed his coach after the game. The Bulldogs, outrebounded 48-34 by the Defenders, have to be better on the glass in order to compete with the GPAC's top dogs.
"Rebounding is one of our biggest weaknesses right now," Folkerts said. "We have to work on that. Even if you're young, you still have to grow up fast. You can't use the excuse of being young for losses. You just have to take it to them."
Saturday's game, the sixth this season that has pitted Concordia against a ranked opponent, served as another learning experience for Limback's young group that surrendered 18 offensive rebounds to Dordt.
On a positive note, the Bulldogs used a balanced effort once again with a combined 52 points coming from freshmen and sophomores. They simply couldn't match Dordt's talent and experience on the other end.
"I thought the first half we didn't play very mentally tough," Limback said. "(There were mistakes) on free throw box outs and we had 10 turnovers. The second half was better but it was too big of a deficit."
Sophomore Micah Kohlwey, who played in his second game on Saturday, brought Concordia within 15 at the 14:18 mark of the second half after draining a three and then grabbing a steal and finishing with a layup. Dordt responded with a 12-3 run and led by as many as 26 points. The Bulldogs held the advantage only briefly in the game's opening minute.
Robby Thomas, a sophomore from Shawnee, Kan., just missed a double-double with 13 points and nine rebounds. He also added two more blocks to his GPAC-leading total. Senior Adam Vogt topped Concordia with 15 points while Kohlwey chipped in 10 to join Folkerts and Thomas in double figures.
Junior Joel Haywood came off the bench in his first game of the season after missing the opening nine contests due to injury. He scored three points in eight minutes of action.
The Bulldogs will play three more times at home prior to Christmas, including two contests next week inside Walz Arena. The stretch of home games continues with rival Nebraska Wesleyan (5-2, 1-2 GPAC) on Wednesday. The Bulldogs and Prairie Wolves will tip off at 8 p.m.