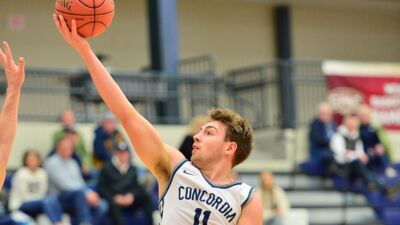 SEWARD, Neb. – Two significant challenges await Concordia University Men's Basketball this week as the second half of the conference schedule continues. The Bulldogs will host No. 20 Morningside on Thursday before traveling to play at Northwestern on Saturday. Both foes are situated above Concordia in the standings, making this a pivotal week if the Bulldogs are to put themselves in the hunt for another GPAC regular season championship. Head Coach Ben Limback's squad is coming off a 69-64 loss at No. 14 Jamestown this past weekend. That loss put Concordia at 11-7 overall, 7-5 GPAC.
This Week
Thursday, Jan. 19 vs. No. 20 Morningside (14-3, 8-2 GPAC), 7:45 p.m.
--Live Webcast/Stats | 104.9 Max Country | Location: Friedrich Arena (Seward, Neb.)
Saturday, Jan. 21 at Northwestern (14-4, 7-3 GPAC), 3:45 p.m.
--Live Webcast | Live Stats | Location: Bultman Center (Orange City, Iowa)
By the numbers
· A mixed bag of late resulted in the Bulldogs receiving no votes in the NAIA coaches' poll released on Jan. 11. Concordia had ascended as high as No. 19 with the unveiling of the Nov. 30 poll. In the most recent GPAC ratings, the Bulldogs were slotted into a tie at No. 4 with Northwestern. The top three teams are Jamestown, Morningside and Dordt. To date, Concordia's most impressive win was the 87-72 triumph it took at Dordt back on Nov. 19. The Bulldogs have gone 3-5 over their past eight games as they continue to adjust to different lineups and life without two starters. Tristan Smith has been sidelined since the injury he suffered at the University of Science & Arts (Okla.) on Dec. 30 and will not return this season.
· In back-to-back games, Limback has started a lineup that has included guards Brad Bennett, Payson Gillespie and Garrett Seagren and post players Noah Schutte and Gage Smith. That group played a major role in lifting Concordia to the 78-69 win over Dakota Wesleyan on Jan. 7. This past Saturday, the Bulldogs dug themselves too big of a hole to climb out of. They trailed by as many as 19 points (41-22) in the first half at Jamestown and still faced a deficit of 12 with less than 3:30 remaining in the game. That's when Garrett Seagren got going with seven points during a 10-1 run that made it a three-point contest (67-64) with less than a minute remaining. However, Concordia failed to score again and suffered a regular season sweep to the Jimmies (15-3, 7-3 GPAC). Gage Smith led the way with 19 points and eight rebounds before fouling out. Seagren finished with a career high 18 points and Bennett added nine points, seven rebounds and four assists.
· A native of Oakland, Neb., and a Chaminade University transfer, Seagren is in his second season as a Bulldog. He routinely draws praise from Limback for his work on the defensive end of the floor. Now he has something he can build upon from an offensive perspective. Prior to last week, his career high scoring total had been 12 in this season's win over Ottawa University (Kan.). He's now averaging 4.8 points per game after his outburst at Jamestown. Seagren spent three seasons at Chaminade and appeared in 12 games as a redshirt sophomore. The 6-foot-2 guard graduated from Oakland-Craig High School and is an NAIA Scholar-Athlete.
· Schutte and Gage Smith are shouldering a major load in the frontcourt in the absence of Tristan Smith. Gage has done his part with a combined 44 points and 18 rebounds over the past two GPAC outings. The fifth-year senior from Elizabeth, Colo., has pushed his career totals to 1,198 points and 803 rebounds in 122 games. On the program's all-time rebound list, he ranks behind only Matt List (928) and Chandler Folkerts (868). In this past week's action, Gage moved up one spot on the school's all-time scoring list, passing Eli Ziegler (1,194) for 23rd. At some point this season, Schutte could join Gage in the 1,000-point club. Schutte has totaled 850 points in 70 career collegiate games.
· Strong defensive play will continue to be a key if Concordia is to challenge for another GPAC championship. Despite the hiccup at Mount Marty on Jan. 5, the Bulldogs rate as one of the league's best defensive teams. Among GPAC squads, Concordia ranks first in scoring defense (68.7), first in defensive efficiency (.948), second in field goal percentage defense (.421) and second in 3-point field goal percentage defense (.295). It also ranks second in the conference in rebound margin (plus-5.4). Without Tristan Smith, three Bulldogs are averaging in double figures in scoring: Schutte (17.6), Gage Smith (12.9) and Bennett (10.2).
· With the win over Dakota Wesleyan on Jan. 7, Concordia moved to 27-1 over its last 28 home games. The only defeat during that stretch was the 90-59 loss to then fifth-ranked Jamestown on Nov. 22. The Bulldogs polished off the 2021-22 conference title campaign with a spotless 16-0 home mark. From the 2020-21 season forward, Concordia's home record stands at 34-2. The high point of that success at home came last season when the Bulldogs knocked off the Jimmies in the GPAC tournament championship game.
The opponents
Morningside has bounced back nicely in year two of Trent Miller's tenure as head coach. The Mustangs went 14-12 last season and missed out on the national tournament. They currently lead the GPAC standings with an 8-2 league mark. Morningside is 3-0 in the month of January with wins over Midland, Hastings and Doane. Big man Ely Doble averages 17.5 points and 6.1 rebounds per game. The Mustangs burst onto the scene in November when they upset two ranked opponents: No. 16 Carroll College (Mont.) and No. 14 Indiana Wesleyan University. Miller's squad averages 79.4 points per game and shoots an efficient 50.3 percent from the floor. It allows 70.6 points and 45.1 percent shooting. Morningside won the first meeting over Concordia, 69-62, in Sioux City.
Northwestern took a licking in Seward, 81-55, on Dec. 3 and then tightened things up. The Red Raiders carry a seven-game winning streak into a week that will include a trip to Briar Cliff. Head Coach Kris Korver's squad has put the pieces together in the absence of All-American Alex Van Kalsbeek, who was injured early in the season. The roster got a big boost with the addition of Dillon Carlson, who leads the team with an average of 19.4 points per game. He leads an up-tempo attack that ranks third in the league in scoring (82.5 ppg). Northwestern also shoots a healthy 38.9 percent from 3-point range. The Red Raiders got a signature win on Jan. 6 when they defeated then ninth-ranked Jamestown, 65-57. Concordia has won seven of the past eight meetings with Northwestern.
Probable starters
Concordia (11-7, 7-5 GPAC)
G – Brad Bennett (10.2)
G – Payson Gillespie (4.2)
G – Garrett Seagren (4.8)
F – Noah Schutte (17.6)
F – Gage Smith (12.9)
Head Coach: Ben Limback (290-278, 19th season overall; 175-120, 10th season at CUNE)
Morningside (14-3, 8-2 GPAC)
G – Jack Dotzler (11.4)
G – Joey Skoff (18.1)
F – Brendan Buckley (5.7)
F – Trey Powers (10.4)
C – Ely Doble (17.5)
Head Coach: Trent Miller (28-15, 2nd season at Morningside)
Northwestern (14-4, 7-3 GPAC)
G – Dillon Carlson (19.4)
G – Grant DeMeulenaere (4.7)
G – Conner Geddes (10.2)
F – Matt Onken (11.9)
F – Craig Sterk (16.8)
Head Coach: Kris Korver (514-205, 23rd season at Northwestern)
Next week
Next week will be jampacked with home action as the Bulldogs will host Hastings on Jan. 25 before shifting focus to the 70th Concordia Invitational Tournament (Jan. 27-28). On day one of the event, CUNE will take on Concordia University Chicago.