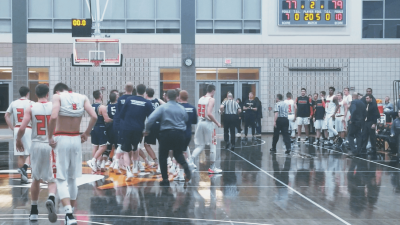 CRETE, Neb. – Head coach Ben Limback and the Concordia University men's basketball team had scripted something a little bit different, but no one seemed to mind when the result was a mid-court celebration after the final buzzer had sounded at the Haddix Center. While whirling into the lane, sophomore Cordell Gillingham tossed in a shot off the glass just ahead of the horn, lifting the Bulldogs to a 79-77 overtime win at Doane on Wednesday night (Jan. 3).
The past three trips to Crete have all ended with deciding margins of three points or less. Limback's squad was elated to have this one go its way. Concordia remains tied for second place in the GPAC standings and sits at 12-3 overall and 5-2 in conference play.
"I'm just so proud," Limback said. "There are a lot of things to look at. We were sloppy and hesitant at times. I felt like we played not to lose down the stretch for the first time this year. With everything else, we were aggressive. I'm just proud of our guys. It was a great battle. Cordell had the guts to shoot that turnaround and make that big play."
The Bulldogs had missed out on an opportunity to win it with possession of the ball and the shot clock turned off in regulation. The Tigers (8-10, 3-5 GPAC) clung to hopes of forcing a second extra session before Gillingham emerged. Gillingham received the ball on the left wing, then spun around into the lane after having the baseline cut off. His eight-foot shot over a leaping defender banked home and sent the visiting bench scurrying to greet him at center court.
Gillingham is not the team's No. 1 scoring option, but he rose to the occasion on Wednesday with a bucket that could have a whole lot of meaning for a team off to its best 15-game start in more than a decade.
"I was more in shock than anything," Gillingham said. "I just love my teammates. That shows what this team's about. If anyone hits that shot, we're all running out there to support each other. For it to be me today, I can't ask for anything more. I just have to give it all to my teammates because they believe in me."
At one point it appeared as though Concordia was the team on the verge of suffering a heartbreaking defeat. Doane went on a 12-0 run in the final four minutes of regulation and took a 69-68 lead with less than 1:30 to play. The Bulldogs edged back in front with a pair of Clay Reimers free throws before the Tigers pulled even and forced the overtime. Neither side led by more than two points the rest of the way in a true nailbiter.
The Bulldogs found a way despite shooting an uncharacteristically low 40.0 percent (30-for-75) from the floor. They made up in part by committing only six turnovers (compared to 13 by Doane) and with the work of senior Kyle Pierce, who filled the stat sheet with 20 points, 12 rebounds, two blocks and two steals. Pierce's output helped overcome Doane rising star Nick Kornieck (20 points, nine rebounds, five blocks).
Limback leaned heavily upon the starting five once again. Four of them reached double figures in scoring: Pierce, Tanner Shuck (19 points), Gillingham (13 points) and Reimers (12 points, eight rebounds). Jake Hornick (nine points, 10 rebounds) just missed a double-double.
Said Limback, "We have to keep getting better. We're excited about Cordell's game winner. Now we have to get ready for Morningside."
The Bulldogs have not been at home since defeating Hastings on Dec. 6. Finally, they will play inside Walz Arena once again when they host 10th-ranked Morningside (12-4, 4-2 GPAC) at 4 p.m. CT on Saturday. The Mustangs swept the season series from Concordia in 2016-17 after the Bulldogs took two from Morningside the previous campaign.