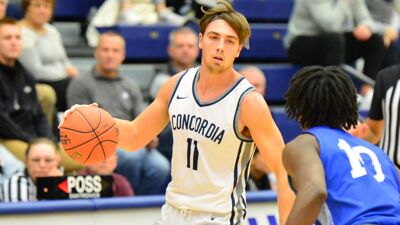 SIOUX CITY, Iowa – The Bulldogs were on their game on Saturday (Nov. 12). Spearheaded by Gage Smith, the Concordia University Men's Basketball team owned a double-digit lead for nearly 35 minutes of game time while blowing out No. 24 Briar Cliff, 78-58, inside the Newman Flanagan Center. Gage had his way in the paint while producing 21 points and 16 rebounds. A massive advantage on the glass (48-27) fueled Concordia in a matchup of programs that shared the 2021-22 GPAC regular season title.
Head Coach Ben Limback's squad moved to 3-0 with an early statement victory over a Briar Cliff team that returned four starters from last season.
"We've been on the other side of it (at their place)," Limback said. "I thought we really set the tone defensively with great effort and focus on personnel. Our defense led to some good offense. That's really what we've been trying to preach with our guys. If we defend, we can get out and run, which is one of our strong suits."
Any given outing, the Bulldogs are capable of devastating the opposition with their frontcourt of Smith brothers Gage and Tristan and well-rounded Noah Schutte. In this instance, it was Gage's turn to grab the headlines ash he manhandled Briar Cliff. Less than seven minutes into action, Gage had already piled up 11 points as Concordia jetted out to a 17-5 lead. Not only did Gage put up 21 and 16, Schutte collected 17 points and eight rebounds and Tristan notched 13 points, nine rebounds and three blocked shots.
Briar Cliff gained a degree of traction when it cut into a 34-12 deficit and trailed 34-22 with under six minutes left in the first half. The Bulldogs then closed the half on a 14-5 spurt and essentially slammed the door shut on the Chargers. The lead ballooned to 30 points (70-40) midway through the second half in a surprisingly thorough rout. Only Connor Groves (12) reached double figures in scoring for Briar Cliff, which shot 37.7 percent (23-for-61) from the floor.
"Our leadership was really strong tonight," Limback said. "Certainly Gage Smith had a great night. He was very poised and made the simple plays. I thought AJ (Watson) was really good from a leadership standpoint too. All our starters played well and got us off to a good start. I think this team is ready for challenges. They know nothing is going to be given this year. We had a little chip on our shoulder and a little edge to us tonight."
As the straw that stirs the drink, Watson chipped in 13 points and dished out five assists (compared to two turnovers) in 25 minutes. Joel Baker topped the bench with seven points while Bradley Bennett contributed five points. Bennett was more of a marked man fresh off his eight 3-point field goals in last week's win over Ottawa University (Kan.). Concordia wound up shooting 45.2 percent (28-for-62) from the floor on Saturday.
Gage Smith added his name to the program's 1,000-point club in the victory. Gage entered the day with 981 career points while also ranking top 10 on the program's all-time rebound list (now with 675 career boards). Gage was the ringleader behind a result completely opposite to last season at Briar Cliff – a 65-48 loss in mid-November.
The Bulldogs will return to the home court on Wednesday to host Midland (4-2, 0-0 GPAC) in an 8 p.m. CT matchup. Concordia has won each of its last 22 home games. The Bulldogs will be tested by a Warrior squad led by a first-year head coach in Tyler Erwin. Midland earned a win at Bellevue University on Saturday.