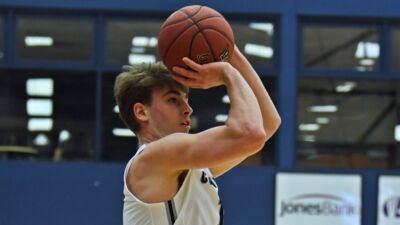 Entering the 2020-21 basketball season, Concordia opponents were likely aware of standouts such as Carter Kent and Justin Wiersema. But if they happened to leave Gage Smith off the scouting report, they paid for it in a big way. No contest last season better represented Smith's quantum leap forward than his 32-point outburst in a dominant February win over then 16th-ranked Dakota Wesleyan.
Smith rose from a complimentary player during his first two collegiate seasons to a Second Team All-GPAC honoree last season. His play demanded that he be included in any discussion regarding the most improved players in the conference. The native of Elizabeth, Colo., served as a major reason why the Bulldogs went 14-6 in GPAC play.
Said Smith, "I didn't care what the other teams thought, honestly. I just wanted to show my team that I could step into this role and that I learned from guys like T-Shuck (Tanner Shuck) and the seniors that graduated from that GPAC tournament championship team (in 2020). It's great to get the recognition I got, but I just wanted our team to succeed – and I wanted to win."
The recognition is something new for the Elizabeth High School alum, who says he received only minimal attention during the recruiting process. Overlooked and under-recruited, Smith's breakthrough performance last season is the type of thing that only happens for athletes who work for it. The byproduct of Smith's work ethic is what people have seen play out on the court. Smith went from averages of 2.3 points and 1.3 rebounds in 2018-19, to 4.7 points and 4.5 rebounds in 2019-20 to 13.9 points and 9.2 rebounds in 2020-21.
Head Coach Ben Limback has been impressed by the physical transformation Smith has undergone since arriving on campus. Limback and former assistant coach Lance Korrell saw immense potential in Smith. It was simply going to take a year or two of development for Smith to refine his offensive game and make himself into an all-conference player.
"It's rare to see kids physically transform the way that he has," Limback said. "He always played hard and he always had certain skills, especially on the perimeter. He was more of a guard or a wing when he came in. He was probably 175-180 when he got here and now he's over 200 and plays with a lot of physicality. The transformation took a lot of hard work that he put in during the offseason. During the recruiting process we saw a scrawny kid from Colorado that we knew one day would be a good player. He's even surpassed the level that we anticipated."
It's become cliché to talk about someone's on-court energy, but it's a big part of Smith's game. It isn't unusual for Smith to fire up a 3-point shot and then sprint after it. On multiple occasions, such hustle resulted in put-back baskets last season. It has to be a pain to try to play Smith one-on-one, because his motor never stops. He can also score in the post, hit a mid-range jumper or bomb away from beyond the arc.
When the ball is tipped, the 6-foot-6 Smith takes on the mentality of a rabid Dawg. In a three-game span near the beginning of last season, Smith totaled a combined 49 rebounds while putting forth his best Dennis Rodman impression. He wound up reaching double figures in rebounds 11 times in 2020-21.
"I'm the nicest guy off the court, but on the court I turn into a different animal," Smith said. "I can't jump the highest and I'm not the biggest. It's about positioning. Once you get that positioning early, that's how you get more boards. Throughout the season I became more of a scorer, but I enjoy that role as a rebounder."
Somewhat unproven heading into last season, Smith was rewarded with a starting role. He never looked back while making people appear foolish for looking past him as a high school recruit. Smith won't complain about how things have worked out. He's found a fit for himself athletically, academically and socially. Smith first learned about Concordia through a former Bulldog who also came out of his home state of Colorado.
Said Smith, "I came out here and fell in love with the school. The facilities and the business professors were great and the coaches and players I met were really cool. I also liked the Christian environment. I fell in love with all of that."
Smith's experience has been so positive that his younger brother Tristan has followed him to Seward. Gage's own exploits may have helped enhance the profile of Tristan, who was a more heralded high school prospect than his older brother. If Tristan's game progresses as rapidly as Gage's, it will be a scary proposition for the rest of the GPAC.
Family or not, the Smith brothers won't lose their fiery competitiveness on the practice courts. In fact, the Smiths have already gone head-to-head several times during preseason practice. Tristan will turn heads with his ability to finish with authority. The talent for younger brother is obvious, but as big brother, Gage isn't likely to let Tristan get the best of him – at least not if he has it his way. They will poke fun about going up against one another, but as Gage says, they are "super tight."
"He's got more bounce for sure," Gage said. "If it's a dunk contest, he's got me. Anything else, I've got him." Jokes Gage, "I have to show him who the older brother is."
Said Limback, "It was a draw for Tristan to come here because of his brother. Any time at practice we tell them to pair up and go against someone one-on-one, those two always go together. They bang and compete. They're different players. Tristan is more athletic but doesn't have some of Gage's ability on the perimeter yet. They're definitely competitors, but they're also like best friends off the court."
Now entering the 2021-22 season, Gage is a trusted veteran who is much more than just a rebounder. This offseason, Smith says he has put a lot of his focus on improving his ball-handling skills. Even at 6-foot-6, Smith wants to have the versatility to play at a guard or wing position. Gage is willing to fill what role will help the team win.
There may be more preseason buzz surrounding GPAC rivals Morningside, Jamestown and Northwestern, but Gage Smith and company cannot be ignored. All five starters return for a squad that likely would have qualified for the national tournament last season had it featured a 64-team format that will be used this season.
There's a hunger to get back to that level. Says Gage, "Our senior class has had those three years we've been playing together that most teams probably don't have. We've gotten to know each other and play with each other. I think that's going to be a benefit going into this season. We know how each other plays and how we work together. That's one of our strengths."
Off the court, Smith has been active in the community as an Administrative Assistant with the Seward County Chamber and Development Partnership. The Business Administration major certainly has an interest in the business world, but he says he also would enjoy a chance to be a graduate assistant basketball coach.
Should Smith attack his career pursuits the way he hunts missed shots, the future will be a prosperous one.