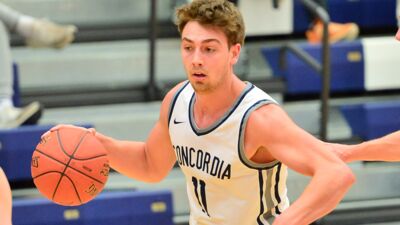 SEWARD, Neb. – There's no time to sulk about the adversity the Concordia University Men's Basketball time has found itself up against. In a bounce-back performance, the Bulldogs got tough on the defensive end and used a monster outing from Gage Smith to earn a 78-69 home win over Dakota Wesleyan on Saturday (Jan. 7). Concordia limited the visitors to 35.9 percent shooting in a major reversal of what occurred two days earlier in the loss at Mount Marty.
Head Coach Ben Limback's squad remains near the top of the GPAC standings at 7-4 in league play (11-6 overall). As a program, the Bulldogs are 27-1 over their last 28 home games.
"Any time you win it's a great feeling, but I thought it was the way we won," Limback said. "Defensively we played really hard and made some toughness plays. Certainly Gage Smith had an All-American effort today – double-double. You see the offense, but defensively he was really, really good. He held their leading scorer to 10 points and had some blocks and some tips. Brad Bennett – he didn't shoot well, but he had a double-double as well. I'm just so proud of the toughness and the hustle today."
With his brother Tristan sidelined for the foreseeable future, Gage Smith decided to take things into his own hands on Saturday. He finished with 25 points, 10 rebounds, four blocked shots and two steals in a complete outing on both ends. He set the tone defensively as Concordia made it difficult for Dakota Wesleyan (8-8, 4-4 GPAC) to score in the paint. To their credit, the Tigers did whittle a 13-point first-half deficit down to four (62-58) with less than five-and-a-half minutes remaining. On the next two offensive possessions, Noah Schutte and Gage Smith responded with back-to-back layups.
The hustle of Schutte was also evident. He muscled inside for five offensive rebounds (eight total boards) as part of a 21-point outing. The Laurel, Neb., native also added two blocks on a day when Concordia rejected eight shots as a team. In the backcourt, Bennett spent a good portion of the game handling the ball and filled the stat sheet with 11 points, 10 rebounds and five assists. It was also a fine contest for Garrett Seagren, who chipped in eight points, five steals, four rebounds and three assists. He threw down an emphatic dunk in the game's closing seconds.
The loss at Mount Marty on Thursday wasn't Bulldog Basketball. Gage Smith and company were determined to get the season back on track. Said Gage, "Thursday was rough. We met in the locker room and we were just like, this has to stop right now. We have to bring the energy and that's going to get us going. On Friday, we met as a group, just the players. It's next man up. We have a lot of great players on this team."
Payson Gillespie got his first career start at the collegiate level and posted six points. He nailed one of the team's two 3-point field goals. In the absence of efficient perimeter shooting, Concordia won by taking care of the ball (five turnovers) and by converting inside. The Bulldogs shot 44.8 percent (30-for-67) overall from the floor.
Dakota Wesleyan got a team high 21 points from Kallan Herman, who went 7-for-19 from the floor. Star forward Koln Oppold posted 10 points, seven rebounds and six assists while Nick Wittler chimed in with 15 points off the bench. The Tigers were coming off a 78-76 overtime win over Briar Cliff on Thursday. Concordia has now won three straight in the series with DWU.
The Bulldogs will be off from game action in the middle of next week as they set their sights on a trip to ninth-ranked Jamestown (13-3, 5-3 GPAC) next Saturday (Jan. 14). Tipoff from Newman Arena is set for 3:45 p.m. CT. Concordia will attempt to learn from what occurred on Nov. 22 when the Jimmies emerged from Seward with a 90-59 blowout win.