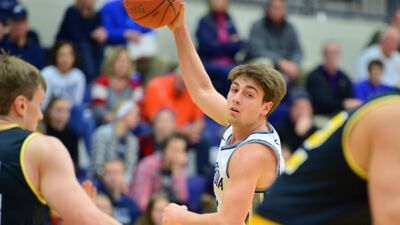 PHOTOS: Senior Day Recognition
SEWARD, Neb. – In a game of ebbs and flows and twists and turns, the Concordia University Men's Basketball team found itself up 11 points early and then down 11 points late in the second half. A few cracks at a potential game-tying three rimmed out in the final seconds and allowed the visitors from Dordt to escape Friedrich Arena with a 74-71 victory on Saturday (Feb. 4). The Defenders managed to overcome a season high 28 points from Gage Smith.
Head Coach Ben Limback's squad saw its win streak halted at four. The loss keeps the Bulldogs in fifth place in the GPAC standings at 9-8 in league play (15-10 overall).
"We had a good fight there at the end," Limback said. "A lot of credit goes to Dordt. They're a tough team. I thought they out-toughed us on a lot of plays, especially in the second half. They were physical and that bothered us. Every time we'd go on a little bit of a run, they would get an open three on a missed talk on our end. We didn't do a good enough job executing defensively and we couldn't offensively get into a rhythm. We just weren't good enough today to beat them."
Dordt dominated for extended stretches of the second half, but somehow, some way, Concordia found itself with an opportunity to tie the game on its final possession. A furious 10-2 rally got the Bulldogs to within the game's final margin (74-71) in the last minute. With a chance at forcing overtime, Smith, Noah Schutte and Payson Gillespie all misfired on hurried 3-point attempts with the clock ticking down. The Defenders exhaled, fortunate that a lack of a single field goal over the game's final three-and-a-half minutes didn't cost them.
It was a 15-2 Dordt second half run that turned the tide of the game in the second half. The Bulldogs led virtually the entire first half, but found stops hard to come by when the Defenders' experienced starting five got going. Luke Rankin (15 points) caused trouble with his quickness while teammates Bryce Coppock and Jacob Vis put away 18 points apiece. Dordt looked like it had just about knocked Concordia out when it went up 72-61 at the 3:35 mark.
Gage Smith nearly willed the Bulldogs all the way back. He made 11-of-22 shots from the floor (4-for-10 from 3-point range) in his most aggressive offensive game all season. He was backed by 19 points and nine rebounds from Schutte (now at 994 career points at the college level). Smith canned a triple at the 3:19 mark and Schutte poured one in at the 2:03 mark as part of the late rally. No other Concordia players scored in double figures, though Brad Bennett and Jaxon Weyand added six points apiece and Payson Gillespie and Garrett Seagren posted five apiece.
Said Limback, "It's a tough loss because I feel like we didn't play very well. I didn't think we played through adversity very well. You've got to respond now. Champions have to respond. We've got to go on the road at Doane next week. We have to get better on Monday … Gage obviously had a nice individual performance."
Concordia and Dordt split the regular season series. The Bulldogs won, 87-72, in Sioux Center, Iowa, back in November. The Defenders had not triumphed inside Friedrich Arena since Dec. 7, 2013. Prior to tipoff on Saturday, the Bulldogs recognized a senior class that includes Seagren, Kelly Vyhnalek, Skyler Woita and manager Braedon Thompson.
Up next, the Bulldogs will take the short drive to Crete, Neb., on Wednesday for a 7:45 p.m. CT matchup with Doane (10-14, 7-9 GPAC). Concordia will shoot for a season sweep after having taken the first meeting, 74-61, in Seward on Dec. 15. In his head coaching tenure, Limback owns a record of 14-6 versus the Tigers.