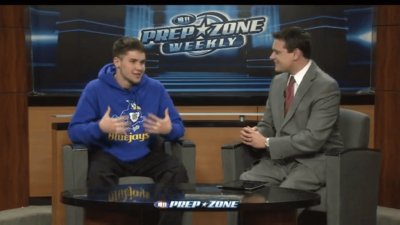 WATCH: Brevin Sloup joins Prep Zone Weekly
Fresh off making his commitment to the Concordia University men's basketball program, Seward High School senior Brevin Sloup joined Kevin Sjuts, Sports Director at KOLN/KGIN-TV, on Prep Zone Weekly. That interview can be viewed by clicking the link above.
A 5-foot-9 point guard, the left-handed Sloup was described by NebraskaHShoops.com. as a player who can "shoot from deep in addition to his ability to beat defenders off the dribble."
In his interview with Sjuts, Sloup cited Ben Limback and the Bulldog coaching staff as a major reason for choosing Concordia as his college destination.
"I love the coaches," Sloup said. "A lot of people say that, but I can honestly say that. When they first came and offered me in August, they brought three coaches to the house. They're always texting me and calling me after games. I felt like they really wanted me. I'm not saying other coaches didn't want me, but I felt really comfortable with them."
The Bluejay star is also glad to be sticking around in his hometown. Many members of the Seward community congratulated Sloup via social media on his decision to play at Concordia.
"I'm not going too far," Sloup said. "I know my parents were really excited about that so they can be nice and close. I think there are good things right around the corner. I'm really excited. People from town were like, 'now we can watch you four more years.' It will be real fun."
Currently, 10 Seward High School alums appear on Concordia athletic rosters:
-Trey Barnes, Football/Men's Track & Field
-Allison Brooks, Women's Track & Field
-Court Croghan, Men's Golf
-Seth Fitzke, Football
-Micah Kohlwey, Men's Basketball
-Kalvin Lankford, Men's Track & Field
-Drew Ten Bensel, Baseball
-Marti Vlasin, Women's Track & Field
-Makenna Volzke, Volleyball
-Lauren Wilcox, Women's Cross Country/Track & Field