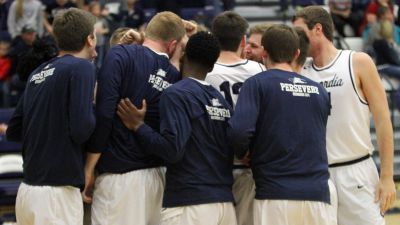 FREMONT, Neb. – In a contest eerily similar to the one played at Dordt on Dec. 18, the Concordia University men's basketball team nearly dug out of a 25-point second half hole in Wednesday night's GPAC tussle at the Midland Event Center. Ultimately, the host Warriors rode the playmaking skills of senior guard Jesse Jones to a 78-75 victory.
Meanwhile, third-year head coach Ben Limback's squad fell for the third-straight time in conference action. The Bulldogs slumped to 10-6 overall and 4-6 in conference play. Midland improved to 8-8 overall and 5-3 in league action.
"We talked at halftime about identifying where to go with the basketball and how to play better as a team," Limback said. "Once we started to make our run we started to share the ball better. Obviously the zone disrupted them and got them on their heels. The biggest key was their run in the first half. We have to be tougher. We have to be able to play our style of basketball."
A nailbiting finish appeared out of the question when Alex Starkel's layup pushed Midland's advantage to 57-32 early in the second half. But like it did just a few weeks earlier, Concordia showed guts on the road in putting together a 20-2 run. Eli Ziegler nailed a pair of treys as one of five Bulldogs to score during the splurge.
At the 3:07 mark of the second half, Concordia got within one (69-68) when Micah Kohlwey notched his first points with a left-wing triple. About a minute-and-a-half later the Bulldogs, then down 72-70, squandered an opportunity to take the lead when Robby Thomas misfired on a 3-pointer.
Jones responded immediately thereafter with a crossover, step-back three that left a Concordia defender tied up on the floor. Jones then made 3-of-4 free throws in the final 10 seconds and Midland breathed a sigh of relief when Chandler Folkerts' three-quarter court heave clanged off the rim at the final gun.
Folkerts' continued dominance in the paint helped lead the Bulldogs back from the depths of a 25-point deficit. He tallied 18 of the team's first 35 points and finished with his second-straight double-double (24 points and 10 rebounds) and 14th of his career. The inside-out game of Folkerts and Ziegler spurred Concordia to 63.0 percent (17-for-27) second-half shooting.
The Warriors stole the spotlight in the opening half with highlight reel plays provided by Jones and senior jumping jack Harold Ridgeway (12 points off the bench), who threw down a pair of thunder dunks. Jones burned the Bulldogs for a game high 26 points on 10-for-15 shooting from the floor. He added seven rebounds, six assists and four steals. Starkel chipped in 14 points and seven boards.
Jones and company found buckets tougher to come by in the second half in the face of Concordia's 2-3 zone. The Warriors shot 46.0 percent (29-for-63) overall but only 41.4 percent (12-for-29) over the final 20 minutes. Midland was stuck on 57 points for almost a five-minute period during the second half. The Bulldogs finished at 50.9 percent (29-for-57).
"It really helped our offense when we got in the zone," Limback said. "We got a couple of deflections that led to points in transition. Even when we got in our halfcourt offense in the second half, we were moving the ball and screening for each other. We were over 60 percent in the second half. That just shows our shot selection compared to the first half."
The Bulldogs will be back on the road on Saturday when they take on Northwestern (9-8, 3-5 GPAC). Tipoff from the Bultman Center in Orange City, Iowa, is slated for 4 p.m. In last season's matchup at Northwestern, Concordia pulled off the road win courtesy of an Eli Ziegler game-winning, buzzer-beating 3-pointer.