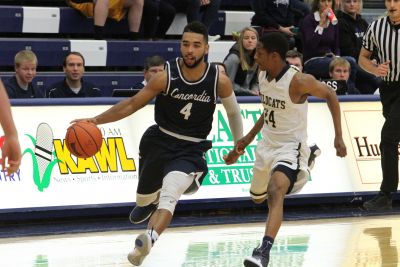 Free throw advantage carries Concordia to season sweep of Mount Marty
SEWARD, Neb. – One the nation's top free throw shooting teams coming into play, the Concordia University men's basketball team used a decided advantage at the charity stripe to pull away from Mount Marty for a 78-60 victory inside Walz Arena on Saturday afternoon. The win completed a regular-season sweep of the Lancers, whom the Bulldogs defeated 88-70 in Yankton, S.D., on Nov. 12.
Second-year head coach Ben Limback's squad finished off a 2-0 week and now sits at 7-6 overall and 4-4 in GPAC contests.
"We were very stagnant (in the first half). Second half was much better," Limback said. "Robby (Thomas) finally started to get going. When he starts shooting well and attacking the paint it opens a lot of things up."
After shooting 35.7 percent in the first half, the Bulldogs blistered the nets with 53.8 percent shooting in the second half. Most glaringly, Concordia went 24-for-31 (.774) from the free throw line compared to 7-for-9 free throw shooting by the Lancers (1-12, 0-8 GPAC). Senior Joel Haywood and sophomore Chandler Folkerts went a combined 11-for-12 from the charity stripe.
Those points from the line were critical during an opening 20 minutes that saw the Bulldogs go just 1 of 7 from behind the arc. That cold shooting helped Mount Marty get within 35-31 at the 18:50 mark of the second half. That's when the Bulldogs kicked it into gear and went on a game-defining 24-6 spurt that the Lancers never recovered from.
Included in that stretch were a pair of treys from Thomas and one from sophomore Aaron Walker, who chipped in nine points and plenty of energy in 13 minutes of action. The Bulldogs went 5-for-11 from deep in the second half to put away Mount Marty. Sophomore Eli Ziegler sniped two of his three triples after halftime.
"As a shooter I just try to come into the game and work hard without the ball and shoot it when I'm open," Ziegler said. "My teammates got me the ball and I made some shots today."
Star Lancer guard Bud Smith managed only nine points (eight below his season average) while dealing with foul trouble. Smith had burned the Bulldogs for 30 points the first time the two squads met.
"Micah (Kohlwey) did a good job on him and some other guys had a shot at him," Limback said. "We tried to limit his touches and make other guys score. Give them credit. In the first half some guys did hit some shots. He's a great player and we just tried to make sure he didn't beat us tonight."
Thomas topped the Bulldogs with 14 points, five rebounds and two blocks. Folkerts posted 13 points and two steals and Ziegler, who made his third-straight start, added 11 points and four rebounds.
A total of 13 players saw action for Limback's squad. Eleven Bulldogs registered in the scoring column, including 6-foot-9 Max Wegener, who continues to come along after missing the first seven games due to injury. He contributed eight points and four rebounds on Saturday.
Mount Marty, still winless in conference play, was led by the 11 points off the bench from Jackson Seitzinger. Alex Irvine totaled 10 points.
The Bulldogs are shooting 76.1 percent from the free throw line on the season. That figure ranks 11th best nationally among all NAIA Division II teams.
The Bulldogs now have five days without a game prior to returning to action on Friday, Dec. 19 when they play at Dakota Wesleyan (12-1, 5-1 GPAC). Tipoff is set for 6 p.m. from Mitchell, S.D. The Tigers have won each of the last four meetings with Concordia.