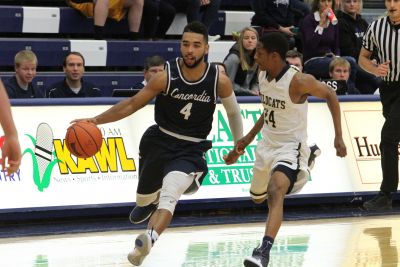 Former Creighton standout embarks on coaching career at Concordia
By Jake Knabel, Director of Athletic Communications
After spending four seasons starring for the Creighton University men's basketball team and two years playing professional basketball, two-time second team all-Missouri Valley Conference guard Antoine Young is ready to kick start his coaching career. The native of Bellevue, Neb., officially joined Concordia head men's basketball coach Ben Limback's staff as a graduate assistant coach on July 1.
Young consulted one of his two college coaches, Bluejay head coach Greg McDermott, when considering the opportunity at Concordia. Having served as a coach for an AAU team and in the high school arena in Bellevue, Young is ready to embark on a career at the college level.
"I was looking for a lot of different grad positions around the area and saw that Concordia was offering one," Young said. "I wanted to stay close to home and be able to get back to family things. I saw Concordia and thought it was a good opportunity. I talked to Coach Mac at Creighton and he said it would be a great opportunity to get started in coaching."
A three-year starter at Creighton, Young brings unique experiences to Concordia having played professionally in Geneva, Switzerland, Mexico and for Holland's ZZ Leiden squad, which he helped to a Dutch championship. That followed a successful run at Creighton in which he totaled 1,342 career points and led the Bluejays to a four-year record of 97-46 while playing for both McDermott and Dana Altman (now at Oregon).
Limback says he and Young hit it off immediately when they discussed the graduate assistant opening. Limback got glowing reviews from McDermott as well as Young's prep coach at Bellevue West. There are many potential benefits to Young's arrival, including his connections to the Omaha recruiting scene and his endearing personality.
"He's got a great personality. He's fun to be around," Limback said. "He has high character and everyone I've talked to, from his high school coach, Coach (Doug) Woodard, and Coach McDermott, they had great things to say about him as a person more so than his fabulous playing career. I think he's going to enhance our program just being from the Omaha area. Already he's making a positive impact for us in that area."
Young has introduced himself to Bulldog basketball by working the team's annual summer camps, which took place in June. He says he can already sense a welcoming, but competitive environment fostered by Limback.
"It seems like a really friendly environment," Young said. "I like the competitiveness you see in Coach Limback, which is heavy in me. I love winning and I also love being around a good group of people. I think that's the key to winning. So far I love it here. I'm sure I'll be able to get out in the community and maybe check out some football games soon. I'm excited to be here."
It didn't take long for inquisitive Bulldog student-athletes to quiz Young about playing at Creighton with Doug McDermott, a consensus national player of the year and first-round NBA Draft pick.
"I think they've all probably asked me about it, which is cool," Young said. "Doug is a great person. I talk to him every week. Those are the kinds of things that make you want to be part of something and part of a team. Those are lifelong friendships that you create."
The former three-time first team all-state choice at Bellevue West certainly keeps impressive company. He bring perspectives and insights uncommon for most graduate assistants at the NAIA level. For all that Young has experienced, he remains humble.
"He brings a different side to things," Limback said. "He'll challenge my thinking on certain things. I think he'll challenge our players with certain things, just having that background. It's instant credibility. He's played professionally and gone to NBA Draft camps. He's played at Creighton against elite competition.
"But he's also very intelligent and can teach. It's beyond just being a great basketball player. But yeah, he's got things that some of us small town Iowa guys that played at Concordia don't have. He's also very humble and down to Earth to where he understands the mission and values at Concordia."
Young completes a 2015-16 staff that includes Limback as well as newly-promoted full-time assistant Lance Korell. Phil Friedrich is the fourth member of Limback's crew. The Bulldogs are set to open their season on Oct. 31 when they host Johnson & Wales University (Colo.).
Young earned a degree in journalism from Creighton. He is now pursuing a master's in athletic administration.