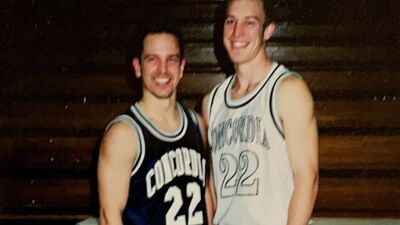 In most cases, alumni games can be easily forgotten. But not the Concordia Men's Basketball alumni game of 21 years ago. The outcome from that contest mattered very little (except to the intense competitors on the floor), but it's what happened prior to tipoff that brothers Darin and Derek Engelbart will never forget.
Two decades later, that moment continues to symbolize the bond between the Engelbarts, a name that became synonymous with 1990s Bulldog Basketball. Throughout his standout collegiate career from 1992 through 1996, Darin proudly wore No. 22 as the dynamic point guard for Head Coach Grant Schmidt. For three seasons from 1997 through 2000, 6-foot-4 Derek donned 24. That changed late in the fall of 2000 on a day when their father Dennis (also a Concordia alum) even laced up the sneakers.
Explains Darin, "Before the alumni game I go to the cage and I get my jersey. It's 22. No doubt about it – 22 is what I'm wearing. I wore 22, my dad wore 24 and Derek was expected to wear 24 that game. We go through warmups and then the starting lineups. They announce Derek and I'll never forget it. He changed to 22. It wasn't about me. He did it so proudly. That meant a lot to me. It's a special thing for us. It stayed within our family. Call it a tribute. He felt something when he put on that jersey beyond the Concordia name. There was a Bulldog on it – and that was awesome in itself."
The small, but impactful gesture stirs up emotion within Darin and Derek to this day. Recalled Derek, "I did it to pay homage to him and his teammates. It was a tip of a cap to those guys who paved the way for me. Our era of guys wanted to emulate what they did."
Though they were never teammates, the Engelbarts lived Concordia Basketball through each other. They share a reverence for the program, for its winning tradition and most importantly, for the relationships that were formed. They were also really good on the court. No other brother combo in program history has ever reached the 1,000-point club. Darin finished with 1,335 points while Derek accumulated 1,105. Over a 10-year period, there was an Engelbart on the roster for nine of those seasons.
As Derek's career wound down in the early 2000s, Schmidt wrote, "The Engelbarts have definitely left a mark on this program that will be remembered and respected for many years."
Both Lincoln, Neb., natives, the Engelbarts starred on the hardwood at Lincoln Northeast High School. Out of high school, Darin made the decision to head to the University of Nebraska-Omaha (NCAA Division II at the time) to play basketball. The course of his career quickly changed when he transferred to Concordia after one semester and hopped into action for the trailblazing 1991-92 team that reached the NAIA national semifinals.
Darin was the real deal. By the 1992-93 season he had become a significant contributor on the way to landing in the Concordia Athletic Hall of Fame, as he did in 2011. His 657 career assists remain a program record. Darin earned Nebraska-Iowa Athletic Conference Player of the Year honors following the 1994-95 season that saw the Bulldogs rise as high as No. 2 in the NAIA Division II national poll. That '94-95 squad has also been recognized with Concordia Hall of Fame induction. Darin still remembers the first time he practiced with his new Bulldog teammates and the intensity of it while surrounded by future Hall of Famers such as John Puelz, Devin Smith and Mike Works.
"When I reflect back it's always about the relationships that you build with your teammates," Darin said. "Road trips were always great because of the fun you have and the conversations you have. That year (1992) we went to the final four it was in Texas. We had a couple days of a break so we went out and found this field and played whiffle ball. We just did fun things like that as a team."
After a season (1996-97) without an Engelbart, Derek enrolled at Concordia in the fall of 1997, on the heels of helping Lincoln Northeast to an impressive string of state championships. Derek served as a role player his first two seasons before averaging 16.1 points per game as both a junior and senior. He was voted the Team's MVP in 2000-01 when he spurred the Bulldogs to an appearance in the NAIA national round of 16. At that time, Derek and his teammates referred to the rivalries with Doane and Nebraska Wesleyan as the "triangle of hate." Derek laughs when recalling how Doane students used to bring their own furniture into the fieldhouse in Crete and sit directly behind the opposition's basket.
Darin had reserved a particular level of disdain for Wesleyan. It was a big deal to knock off that school in Lincoln. Darin remembered having some of his best games against Wesleyan (such as the 27-point outburst in a 97-88 Concordia win over NWU in January 1995). Meanwhile, Derek reveled in toppling a fine Wesleyan team (that advanced to the national title game) on its own senior day. Because Darin had played at Concordia, Nebraska Wesleyan coaches assumed that Derek had already made up his mind about becoming a Bulldog.
"We got wound up for those Wesleyan games mainly because we were Lincoln kids," Derek said. "You had a lot of former teammates or opponents from high school that were playing for Wesleyan. If I looked at a rivalry, it was them. Of course you had Doane too with them being so close. There was always kind of a rivalry too with Hastings between Grant Schmidt and Mike Trader (former Bronco coach). Those conference rivalries were unmatched, and it was high-caliber basketball."
The Engelbarts are associated with a glorious time in Concordia Men's Basketball history. They played alongside many of the other program's all-time greats and remain deeply connected to Concordia. Current men's basketball coach Ben Limback's college playing career overlapped with both Engelbarts and women's basketball coach Drew Olson was a teammate with Derek. Furthermore, everyone who surfaced during the era of 1989-2012 played under Schmidt. Everyone has a Coach Schmidt story.
Says Derek, "The more you look back on it, you feel his influence. It was about playing for each other and having pride and playing for the guys who came before you. He had a passion for not only the sport of basketball, but for Concordia in particular. I think that was contagious. He made things enjoyable. As intense and passionate as things could get at times, there were always so many fun moments. I could remember him, (assistants) Devin (Smith) and Micah (Parker) laughing uncontrollably at times on road trips and the light moments in practice that would happen. He would always be there for us."
Derek and his teammates respected Schmidt to the point that they even bought him a milkshake and a card after he had earned a milestone coaching win on the road. Said Derek, "You don't get that unless guys care and have a bond for their coach."
Darin went so far to suggest that a book should be written about Coach Schmidt's career and personal impact upon his players. Said Darin, "I don't think there was any coach who knew his personnel and players as well as he did. He's a man of faith and integrity." A story that came to mind for Darin involved a mishap on a road trip. The van Darin was riding in hit a patch of ice, spun out and rolled into the ditch along Interstate-80. On a frigid winter day, Schmidt, who was in a van in front of the one that lost control, came sprinting towards the scene to check on his players. "It was like a parent making sure his kids were okay," Darin said. Fortunately, no one was injured.
Some of the post-graduate successes of Darin and Derek can be traced back to these days, which were some of the best of their lives. A conversation Darin, then a college freshman, had with his father set in motion a different course for the Engelbarts, and for Concordia Basketball. Darin wanted to transfer to Concordia and a talk with his father provided the blessing he needed. Now here they are in 2021, still beaming with pride that both had the opportunity to experience life as student-athletes at Concordia.
Says Derek, "Darin did influence my decision to go there, but he wasn't in my face about it. He let me make my own decision. I embraced being in my big brother's shadow. I got to Lincoln Northeast and I was Darin's little brother. You're playing the same sports and you have the same coaches. Then when it comes to a college choice, it was like, 'I'm going to go there and be Engelbart's little brother again.' That didn't bother me. That was an honor to be called his brother."
Darin joked that it would take hours to discuss the relationship between he and his brother and their bond over the game of basketball. Said Darin, "The memories are cherished. Derek and I started playing basketball in the driveway and at our elementary school. Our dad was the principal so we were the first ones there and the last ones to leave. We even played in our kitchen area – we had a nerf hoop in there. He was an inspiration to me even though he was younger. He was on state championship high school teams as part of a four-peat. I was in college at the time and that inspired me to be better. Whether he knows it or not, he was always an inspiration to me."
In turn, it's likely the Engelbarts inspired the Bulldogs that came after them. In that packed old gym that also produced fond memories, the Engelbarts supplied plenty of thrills. When it comes to the Engelbarts, the heartfelt connection with Concordia will live on. Before wrapping up an interview that called to mind all these memories, Darin exclaimed, "Go Dawgs!" Added Derek, "Concordia Athletics is special to a lot of people."
The Engelbarts are forever No. 22 and are forever a cherished brother duo in Concordia Basketball history.