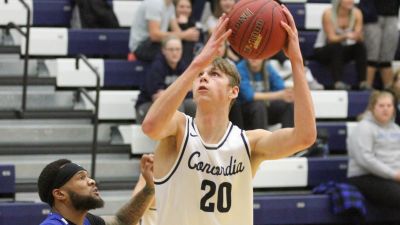 SEWARD, Neb. – A 28-3 spurt in the second half allowed the Concordia University men's basketball team to blow open what had been a tightly contested affair. Fresh off the 27th CIT championship in program history, the Bulldogs used the potent inside-outside combo of Chandler Folkerts and Eli Ziegler to flush visiting Grace University, 107-70, inside Walz Arena on Wednesday evening.
Fourth-year head coach Ben Limback's squad has completed a seven-game home stand during which it went 5-2. Concordia has won four-straight times and now sits at 16-8 overall.
"We really challenged them at half," Limback said. "Jake Hornick and Clay Reimers had huge nights off the bench and really sparked us defensively. Second half, Eli and Tanner (Shuck) started getting loose and Chandler inside was a handful."
Wednesday's contest was a battle through 20 minutes. The Royals (12-12) shot just a shade under 65 percent in the first half and took a one-point lead (44-43) to the locker room. The second half was a completely different story. The Bulldogs dug in defensively, held Grace to 27.3 percent shooting over the final 20 minutes and outscored the visitors 64-26 as part of a dominant half of play.
Folkerts (24 points, 10 rebounds) finished with his second-straight double-double and Ziegler got crazy hot after the break. During a period of less than three-and-a-half minutes, Ziegler poured in 14 of his 21 points in an impressive display. His trey at the 11:28 mark gave Concordia its first 20-point cushion (73-53) of the evening.
The Bulldogs somehow flipped a switch after halftime. They got quality play up and down the roster. Hornick, a freshman reserve from Loveland, Colo., totaled seven points, three assists and two steals.
"I think our defensive intensity really stepped up (after halftime)," Hornick said. "We were flying around a lot more and doing all of the hard work things that we weren't doing in the first half."
Reimers enjoyed one of the best statistical outings of his young career. The freshman from Lincoln went for 15 points, five rebounds and four steals in 16 minutes of action. Shuck, a CIT all-tournament selection, went 4-for-8 from 3-point range and accumulated 17 points to go along with six rebounds. Chris Johnstone also reached double figures in scoring with 10.
The bench accounted for 33 points. Even Zach Friel's shot from beyond the arc bounced around the rim and went down. Said Limback, "I'm just proud of the guys off the bench and what they've given us the last three or four games. They stepped up tonight and really got us going again."
Concordia shot 53.7 percent (36-for-67) from the field and distanced itself by going 25-for-31 (.806) from the foul line. Grace shot 45.3 percent (29-for-64) and attempted only 11 free throws.
The Royals, affiliated with the National Christian College Athletic Association, own wins this season over the likes of Hastings, Nebraska Wesleyan and York College. They were led by the 21 points from D.J. Hanes. Galat Toang added 12 points and eight rebounds.
The Bulldogs make their return to conference play on Saturday when they make a trip to Mount Marty (4-19, 0-13 GPAC) for a 4 p.m. CT tipoff. Concordia, which beat the Lancers, 102-69, in Seward on Nov. 19, will look for a regular-season sweep.