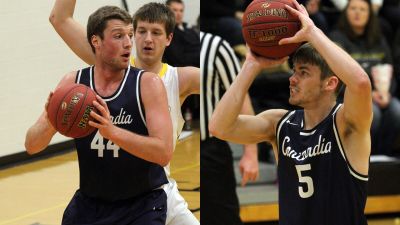 SEWARD, Neb. – For the first time in 10 years, a Concordia men's basketball player has been tabbed the GPAC defensive player of the year. That award has been given to senior Chandler Folkerts, who has also been named first team All-GPAC for the third year in a row. Additionally, fellow senior Eli Ziegler collected second team honors, as announced by the GPAC on Wednesday (March 1). Senior Seth Curran rounded out Bulldog honorees with honorable mention status.
Recently chosen as winner of the NAIA Emil S. Liston and CoSIDA Academic All-America of the Year awards, Folkerts will go down as one of the greatest players in the history of the program. The league's top defensive player finished his career with school all-time ranks of second in rebounding (868), third in scoring (1,963) and fourth in blocked shots (142). As a senior, Folkerts topped the GPAC in rebounding (8.1) and field goal percentage (.686), ranked second in both blocks per game (1.39) and double-doubles (10) and fifth in scoring (18.3). The Milford native's field goal percentage put him second among all NAIA Division II players. Folkerts has made his case to move up from the NAIA honorable mention All-America award he received as a junior.
Ziegler enjoyed his finest season in 2016-17. As a senior, the native of Littleton, Colo., produced career highs in scoring (16.5), assists (3.9), rebounds (2.8), steals and field goal percentage (.482). Among GPAC players, he ranked second in 3-point field goals made per game (3.2), fifth in 3-point field goal percentage (.439), seventh in both scoring (16.5) and assists and ninth in free throw percentage (.798). Ziegler finished his career with all-time program rankings of 10th in assists (273) and 19th in scoring (1,194). His 98 3-point field goals in 2016-17 rank as the sixth highest single-season total in school history.
Curran assumed the starting point guard role this season and ranked sixth in the GPAC in assists per game (4.1). He also averaged 8.0 points, 3.5 rebounds and 1.0 steal over 31 games as a senior. He shot 43.8 percent from the field and 80.0 percent from the free throw line.
Fourth-year head coach Ben Limback's squad finished the 2016-17 season with an overall record of 21-10. Its scoring average of 88.7 points per game broke the single-season school record.
Concordia GPAC defensive players of the year
2016-17 – Chandler Folkerts
2006-07 – Jon Ziegler
2004-05 – Jason Jisa
2003-04 – Jason Jisa
*Rick Dietze was named GPAC player of the year in 2003-04