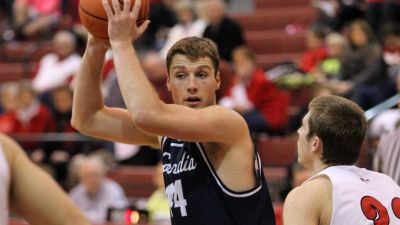 SEWARD, Neb. – First team all-conference post Chandler Folkerts collected second team honors and three other Concordia men's basketball players garnered honorable mention placement on the NAIA All-Nebraska basketball team released by the Omaha World-Herald. The three honorable mention selections from head coach Ben Limback's squad were seniors Jamie Pearson and Robby Thomas and junior Eli Ziegler.
A native of Milford, Neb., Folkerts completed the 2015-16 season with averages of 19.6 points, 8.5 rebounds and 1.4 blocks while shooting 66.6 percent from the field (second best among NAIA Division II players). Folkerts topped all GPAC players with 13 double-doubles. The Chanimal piled up a career high 34 points in the win at Northwestern on Jan. 9. On Concordia's all-time lists, Folkerts currently ranks 10th in scoring (1,397) and ninth in rebounds (618).
The list of accolades hauled in by Folkerts continues to grow. This season he was a first team all-conference honoree for the second year in a row, received NAIA honorable mention All-America recognition and was named to the CoSIDA Academic All-America first team. This January he led Concordia to a CIT title and was named the tournament's MVP.
Pearson made a major impact after transferring in from Wayne State College this past fall. The native of Ypsilanti, Mich., received second team all-GPAC honors and averaged 18.3 points, 3.9 assists and 1.17 steals per game while shooting 48.6 percent from the floor, 83.8 percent from the free throw line and 36.6 percent from 3-point range. In just his second game as a Bulldog, Pearson exploded for 37 points in an overtime win over then No. 8 Bellevue University. He piled up 532 total points.
Like Folkerts, Thomas makes his third-straight all-conference appearance. The native of Shawnee, Kan., collected second team honors last year as a junior. This season he averaged 13.4 points, 6.4 rebounds, 2.5 assists and 2.27 blocks per game while shooting 51.4 percent from the floor. He broke the program's career blocked shots record at the Concordia Invitational Tournament on Jan. 29. Thomas ended his career ranked among the top 20 on the program's all-time lists in four key categories: points (19th; 1,170), rebounds (eighth; 645), blocks (first; 204) and assists (13th, 226).
Ziegler has been a consistently potent outside shooter during his collegiate career. As a junior, the native of Littleton, Colo., averaged 10.3 points, 2.8 assists and 2.7 assists. He shot 44.0 percent from the field, 39.8 percent from beyond the arc and 86.8 percent from the free throw line. He will enter his senior season with 681 career points.
Concordia finished 2015-16 with an overall record of 18-12 in Limback's third season at the helm of the program. The Bulldogs have increased their win total each season under Limback.
2015-16 NAIA OMAHA WORLD-HERALD ALL-NEBRASKA
FIRST TEAM
G Trey Bardsley, Nebraska Wesleyan, Sr., 29.1
G Jesse Jones, Midland, Sr., 17.7
F Corday Sims, Peru State, Sr., 26.0
F Cameron Coleman, York, Jr., 18.8
F Kris Frazier, Peru State, Jr., 12.6
SECOND TEAM
P Chandler Folkerts, Concordia, Jr., 19.6
G Mike Cardenas, Bellevue, Jr., 13.5
G Deonte Holt, Doane, Sr., 17.2
F Travis Giesselmann, Nebraska Wesleyan, Sr., 20.6
P Alex Starkel, Midland, Jr., 15.5
Honorary captain: Trey Bardsley, Nebraska Wesleyan
Honorable mention: Chris Ashanti, Bellevue; Jamie Pearson, Robby Thomas, Eli Ziegler, Concordia; Trevor Cyboron, Nate Kuhl, Doane; Hakeem Stewart, Grace; Carson Blum, Kendall Ferguson, David Plain, Connor Musiel, Hastings; Trevor Bryant, Midland; Keithan Karn, Nebraska Wesleyan; Quantice Hunter, Peru State; Johnny Cooksey, York.