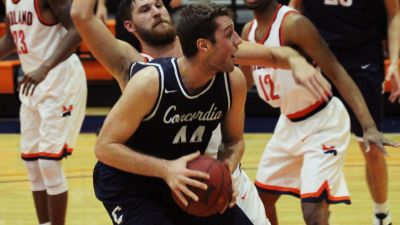 MIAMI GARDENS, Fla. – Host Florida Memorial University entered Thursday's game ranked as one of the top defensive teams in all of NAIA Division II men's basketball. However, the Lions failed to find an answer for The Chanimal. Chandler Folkerts powered home 32 points and the Concordia University men's basketball team upset No. 22 Florida Memorial, 95-85, in Miami Gardens.
In process of toppling The Sun Conference frontrunner on the road, fourth-year head coach Ben Limback's squad picked up its third win of the season over a ranked opponent. The Bulldogs improved to 8-6 overall.
"You never know what to expect in a game right after break," Limback said. "I thought we had some pretty good rhythm offensively. They're one of the top 10 teams in the nation defensively and they showed it. They're big, strong and athletic. Offensively, we had great balance with Chandler and our perimeter guys scoring.
"To come on the road against a top-25 team that has a chance to win their league should give us a lot of confidence and toughness as we keep going."
As part of his monster night inside, Folkerts moved past Director of Athletics Devin Smith for fourth on the program's all-time scoring list. Folkerts, who now has 1,674 career points, made 13-of-17 shots from the floor on the evening. The Milford native led a terrific trio, including senior Eli Ziegler (24) and freshman Tanner Shuck (20), that accounted for 76 points.
Despite having last played on Dec. 10, Concordia simply picked up where it left off. It did so while up against a top-25 foe that had been limiting opponents to 38.8 percent shooting from the floor. With Folkerts scoring at will in the paint and Shuck and Ziegler combining for 11 treys on the perimeter, Concordia smoldered to the tune of 54.2 percent (32-for-59) shooting.
"All three made huge plays throughout the game," Limback said. "Eli was a monster in the first half and Chandler dominated in both halves. I thought Tanner hit a bunch of timely threes and had some heady plays that don't always show up in the box score. Those three guys were very consistent, which is what you want out of your starters."
Just as encouraging as the continued offensive production were the defensive results the Bulldogs got in crunch time. Although Florida Memorial's Charlie Nedd-Araujo got loose for a team high 22 points, the Lions cooled off over the game's final 20 minutes (34.1 percent). Concordia led the entirety of the last 15:29 of game time after a Folkerts bucket put his squad up 58-57.
The Bulldogs bumped their lead to as many as 11 points in the waning moments of the contest. Every time the Lions made a push, Concordia answered on the other end. When Florida Memorial (5-4) got within four (76-72) with under six minutes left, Kyle Pierce surfaced with one of the team's 13 triples. The Lions kept coming and were down only 83-78 with the ball and just under five minutes to go. Folkerts followed by dropping in two and Concordia got a key stop at the other end to take command.
The Bulldogs also own top-25 wins over No. 10 Dakota Wesleyan and No. 17 York College. Concordia has played four-consecutive games against nationally-ranked teams.
Folkerts added eight rebounds and a blocked shot to his stat line. Ziegler and Shuck were a combined 11-for-17 from long range. That hot shooting was key on a night when the Lions committed only four turnovers to the Bulldogs' 16. On the other hand, Concordia owned a 42-33 rebound advantage.
Five players reached double figures for Florida Memorial, which settled for 42.5 percent (34-for-80) shooting after making 19-of-36 (.528) shots in the first half.
The Bulldogs will complete their two-game swing in Miami on Friday when they play at No. 21 St. Thomas University (10-3). Tipoff from the Fernandez Family Center is set for 7 p.m. CT / 8 p.m. ET. The Bobcats are another member of the NAIA's The Sun Conference.