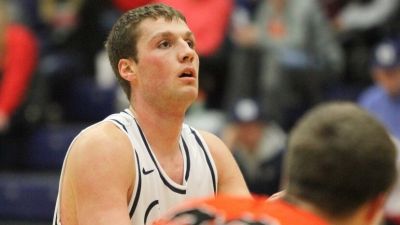 CoSIDA academic all-district teams
SEWARD, Neb. – One of the more dominant post players in all of the NAIA, junior Chandler Folkerts also carries a 4.0 GPA in the classroom. On Thursday the College Sports Information Directors of America (CoSIDA) announced Folkerts as a selection on the 2015-16 Academic All-District Men's Basketball Team (District 3). The native of Milford, Neb., received both all-district and academic All-America recognition as a sophomore in 2014-15.
The CoSIDA Academic All-District® Men's Basketball Teams have been released to recognize the nation's top student-athletes for their combined performances athletically and in the classroom. For more information about the Academic All-District™ and Academic All-America® Teams program, please visit http://cosida.com.
A first team all-conference pick last season, Folkerts has gotten on a roll in 2015-16. He is currently averaging 20.1 points and 8.4 rebounds per game while shooting 67.5 percent from the floor (second best among all NAIA Division II players). Folkerts continues to rise on Concordia's all-time program lists. He ranks 12th in scoring (1,351 points) and 11th in rebounding (591). Two weeks ago he dominated the Concordia Invitational Tournament and was named CIT MVP. Folkerts leads all GPAC players with 11 double-doubles. He is majoring in mathematics and physics.
Folkerts joins a long list of Concordia athletes to receive all-district accolades over the past two season. The 2014-15 academic year saw a school record 11 Bulldogs collect such recognition. This year's honorees include Hallick Lehmann (football), Adam Meirose (football), Becky Mueller (women's basketball) and Folkerts.
District 3 of the College Division covers institutions in the states of Iowa, Kansas, Minnesota, Missouri, Montana, North Dakota, Nebraska, South Dakota and Wisconsin. First-team Academic All-District™ honorees advance to the CoSIDA Academic All-America® Team ballot, where first-, second- and third-team All-America honorees will be selected later this month.
2015-16 academic all-district honorees
(*Academic All-American)
Chandler Folkerts, Basketball
*Hallick Lehmann, Football
Adam Meirose, Football
Becky Mueller, Basketball
2014-15 academic all-district honorees
(*Academic All-American)
Amy Ahlers, Golf
*Brendan Buchanan, Soccer
Stephanie Coley, Track & Field
*Chandler Folkerts, Basketball
Jaydee Jurgensen, Baseball
Adam Meirose, Football
Bailey Morris, Basketball
*Rachel Mussell, Soccer
Shawn Rodehorst, Golf
Ben Sievert, Cross Country/Track & Field
Melissa Stine, Soccer