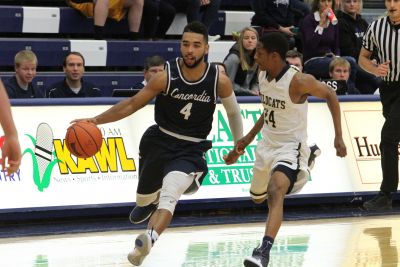 Folkerts placed on OWH's All-Nebraska second team
SEWARD, Neb. – The selection of sophomore Chandler Folkerts as a second team NAIA All-Nebraska member highlighted a group of three Concordia University men's basketball players honored on Sunday by the Omaha World-Herald. Senior Joel Haywood and junior Robby Thomas received honorable mention.
Folkerts, also a Capital One second team academic All-America selection, averaged career highs of 15.6 points, 7.3 rebounds, 1.3 blocks and 1.3 steals as a sophomore. His .623 field goal percentage ranked fifth among all NAIA Division II players. The Milford native scored at least 20 points seven times and topped the GPAC with seven double-doubles. He put up a career best 26 points in back-to-back games against Midland and Northwestern.
Thomas, a native of Shawnee, Kan., ascended to second team all-conference honors as a junior after being placed on honorable mention a year ago. The versatile 6-foot-7 Thomas broke the program single-season record with 71 blocks. He also averaged 13.3 points and 6.7 rebounds while shooting 48.6 percent from the field. He will enter his senior season with 136 career rejections.
Haywood, the 2011-12 co-GPAC freshman of the year, finished his four-year Bulldog career with 1,091 points, 385 rebounds and an assist total of 334 that ranks sixth on the program's all-time list. The native of Lakewood, Colo., was named to the all-tournament team at CIT. Haywood saved his best season for last, averaging 11.9 points, 3.8 rebounds and 3.8 assists while posting shooting percentages of 48.1 from the field, 46.5 from 3-point range and 87.8 from the free throw line as a senior.
Omaha World-Herald NAIA All-Nebraska
First Team
G, Trey Bardsley, Jr., Nebraska Wesleyan, 23.2
G, Marcus Franklin, Sr., Midland, 12.7
G, Corday Sims, Jr., Peru State, 20.7
F, Tobin Reinwald, Sr., Hastings, 19.0
F, Alex Starkel, So., Midland, 15.3

Second Team
G, Deonte Holt, Jr., Doane, 17.6
G, Percy Lemle, Sr., Bellevue, 16.0
G, Taylor Young, Jr., Bellevue, 16.1
G, Galen Gullie, Sr., Midland, 12.2
C, Chandler Folkerts, So., Concordia, 15.6
Honorary captain: Tobin Reinwald, Hastings College
Honorable mention: Alex Worthen-Harris, Bellevue; Joel Haywood, Robby Thomas, Concordia; Nate Kuhl, Doane; Ayotunde Akinbote, Hakeem Stewart, Grace; Zach Lenagh, Hastings; Travis Giesselmann, Keithan Karn, Byron Thompson, Nebraska Wesleyan; Sean McGary, Phillip Jackson, Peru State; Cameron Coleman, Devaun Evans, Deon Willis, York.