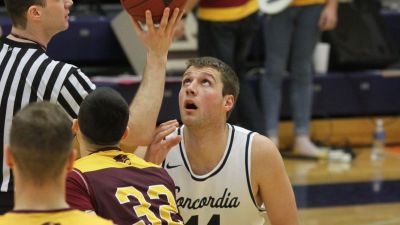 SEWARD, Neb. – The honors keep piling up for senior Chandler Folkerts, a three-time first team All-GPAC award winner. On Thursday (March 16), the NAIA named Folkerts a second team All-American. An honorable mention All-American as a junior in 2015-16, The Chanimal is the Concordia men's basketball program's first All-American to be chosen to one of the three teams since Jon Ziegler (third team) in 2006-07.
In reflecting upon his career, Folkerts wrote, "It meant a lot to be able to represent Concordia because there were a lot people before me that I really looked up to that represented this school so well. To be able to walk in their shoes is a true blessing. There were a ton of people involved in my success. My family, teammates, coaches and professors have all been amazing and I can't thank them enough for their support. They pushed me to do my best in everything. The best memories I have from my time here were just being with teammates, whether it was just hanging out or competing with them in practice. I can't say enough about them. I'm so thankful for the time I've had with them."
The list of honors for Folkerts goes on and on. A 4.0 student, the native of Milford, Neb., collected the NAIA Emil Liston award and was tabbed the College Division Academic All-American of the Year by the College Sports Information Directors of America. In addition to first team all-conference accolades, Folkerts picked up the GPAC defensive player of the year honor. A two-time NAIA Scholar-Athlete, Folkerts has also been a regular on the Omaha World-Herald's All-Nebraska team.
As a senior, Folkerts averaged 18.3 points, 8.1 rebounds, 2.0 assists and 1.39 blocks. His field goal percentage of 68.6 ranked third best among all NAIA Division II players. One of the top players in program history, Folkerts owns all-time school rankings of second in rebounds (868), third in scoring (1,963) and fourth in blocked shots (142). Folkerts shot 65.3 percent over 121 career games as a Bulldog.
With Folkerts leading the way, Concordia improved its record each season. The 2016-17 Bulldogs went 21-10 overall. The 21 wins were the most for the program since the 2004-05 team went 32-6 and finished as the national runner up.