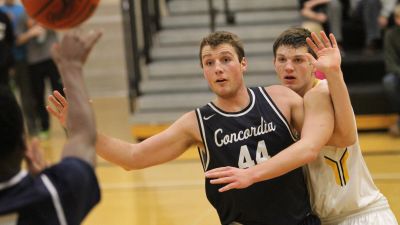 SIOUX CENTER, Iowa – In a game that seemed destined to be a Dordt runaway victory, the Concordia University men's basketball team put together a furious rally on the strength of career nights from Chandler Folkerts and Rudy Knight. Unfortunately, the team's fourth overtime game of the season ended in heartbreak when Bryan Sumner beat the buzzer with a layup that lifted the Defenders to a 104-102 win.
Third-year head coach Ben Limback's squad fell victim to a Dordt squad that has yet to lose at home (7-0). The Bulldogs dropped to 8-4 overall and 4-4 in league action.
"It's one of those where you don't know what to tell (the team)," Limback said. "They had an edge to them. They had a chip on their shoulder. They got into a rhythm offensively.
"I was so proud of our guys during that segment (in the second half). That's how we should play. I'm just disappointed that we lost and disappointed with how we played in the first half."
Concordia fell behind by as many as 24 points in the first half and still trailed by 19 with fewer than eight-and-a-half minutes left in regulation. Folkerts, who became the 27th member of the program's 1,000-point club on Friday, went to work. His monster night (33 points, 13 rebounds) included 11 points over the final eight minutes of regulation. Folkerts' bucket in the closing minute tied the score at 90-90 and sent the contest into overtime.
Limback rode Knight (career high 22 points) at the point guard spot and he delivered. His whirling, twirling layups helped Concordia build a 98-92 overtime lead. The Bulldogs took a punch from Dordt and answered with Knight's three-point play that provided a 102-97 advantage.
"Rudy came in and gave us what we needed," Limback said. "He's the one who sparked us in the second half – and Chandler was consistent in both halves. He made plays for us and that's what leaders do. I feel like he's coming on as a leader. And I loved the way Rudy played."
But Sumner's heroics helped the Defenders (9-6, 5-3 GPAC) avenge their 100-95 overtime loss in Seward nine days earlier. Sumner followed Knight's old-fashioned three with a triple. Dordt then got two key stops to set the stage for the game winner that left 0.5 seconds on the clock.
Few would have expected Concordia to be in position to win after it went to halftime down 60-38. The Defenders shot 63.6 percent in the first half and drilled eight treys. Leighton Sampson (24 points, 10 rebounds) and his teammates appeared unstoppable, but an energized second-half defensive performance by the Bulldogs spurred the stunning rally.
Junior Eli Ziegler added 16 points, including four in overtime. Two others also reached double figures in scoring for Concordia: Jamie Pearson (12 points) and Robby Thomas (11 points, seven rebounds, three blocks). The balanced bunch powered an attack that shot 60.3 percent (41-for-68) from the field.
The Defenders also had five players score 10 points or more. Dalton Franken dropped in 22 and Sumner (5-for-9 from 3-point range) finished with 19. Dordt slumped to 43.5 percent in the second half but finished at 54.5 percent overall. It went 13-for-22 (.591) from 3-point range.
The Bulldogs will break for Christmas before flying to California for a pair of games in Redding, Dec. 29-30. The opponents will be Simpson University (2-10) and No. 23 Cal Maritime (7-5).