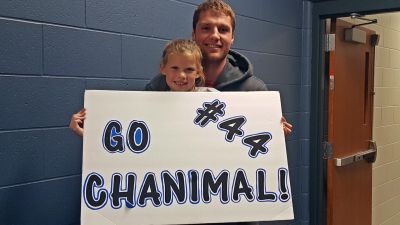 Nobody's perfect, but Chandler Folkerts sometimes challenges that notion. He once got an A-minus just to see what it felt like. When rounded up, his GPA is still a spotless 4.0. On the court, Folkerts has produced seven career games in which he's attempted at least five shots and made every single one of them.
Says head coach Ben Limback, "He's lived up to everything you could ask for in a player and as a person. He's just one of the best guys I've ever coached."
In the history of Concordia men's basketball, there's never been anyone quite like Folkerts. He's the prototype for what the model student-athlete at Concordia should look like. He's an All-American boy in every sense of the meaning. He demands a spotlight because of his excellence, but certainly not because he ever seeks out attention.
There's humble and then there's the 6-foot-8 Folkerts, who says, "I'm just following in the footsteps of the people that I looked up to. It's pretty awesome." Since he'll never say it, we'll go ahead. Chandler Folkerts will go down as not just one of the top players in the history of Concordia hoops, but as one of the top all-around people.
The Chanimal is born
The nickname can escape him no longer. Sorry Chandler, it's too deeply ingrained. Even KLKN-TV (Lincoln) sports director Brett Edwards regularly makes references to "The Chanimal" during highlight packages of Concordia games on the ABC affiliate's nightly news broadcasts. Edwards also frequently refers to Chandler as a former Runza student-athlete of the month and Milford native.
Chandler simply takes the nickname in stride. "I just don't really react to it," he said while laughing. "It doesn't really matter to me. I get a kick out of it when people use it." Smiling, Limback says, "I try to just call him Chandler."
Chandler has former teammate Robby Thomas to thank for coining The Chanimal. The moniker was perfectly appropriate when Thomas first uttered it after Chandler burned Northwestern for 34 points and 14 rebounds in an 87-81 Concordia win in Orange City, Iowa, on Jan. 9, 2016. The name has stuck because it fits.
He's a good sport about it. At a pep rally the week of CIT, "The Chanimal jersey chase" was one of the featured events. In this particular contest, two female students had to slip on Chandler's basketball shoes, shorts and jersey and then make a layup. Whichever person could complete these tasks first, won. But let's be honest, both participants were winners. Both received a hug from The Chanimal, who waited underneath the basket. Swoon.
The basket is where he lives, at least on many Wednesday nights and Saturday afternoons. Part Chandler, part animal, The Chanimal has made big games a habit. You don't have to go back very far for perhaps the greatest performance of his career. He one-upped his Orange City effort from a year earlier by totaling a career high 37 points and snaring 14 more boards on Sunday at the Corn Palace.
What he most liked about the game? His team won – and it was a big one. A 109-106 upset at No. 7 Dakota Wesleyan. "I knew I was scoring, but I wasn't thinking about that," Chandler said. "They were chipping away at our lead and I was worried about that. That was intense."
Even as a baby-faced freshman who carried a few more pounds than he does now, Chandler showed flashes of The Chanimal that was yet to come. He averaged 11.2 points and 4.7 rebounds as a rookie. Then he took off as a sophomore, became a first team all-conference player and quickly established himself as one of the top post players in the GPAC. But even that might be selling Chandler short. Teammate Eli Ziegler has his opinion. He calls Chandler the best post player in the nation.
It's hard to argue. Chandler is incredibly and deadly accurate around the rim, even with teams focused on containing him. His shooting percentage of 68.3 hardly sounds possible. But then again, this is The Chanimal we're talking about.
Star upbringing
There's an abundance of brains and brawn within Chandler's family. Chandler himself was the class salutatorian at Milford High School. His brother Paxton was valedictorian at Milford the year before. His father Paul was valedictorian at Davenport High School. His mother Angela Muller was salutatorian at Madison High School. We're sensing a theme.
"That was always the thing with looking at playing college sports," Chandler said. "You're looking at an education, too. It was always the top priority. It was just an expectation. I never asked why. I just knew I had to do my best."
And how about the brawns? His father Paul stands at 6-foot-3 (outgrown considerably by both sons) and has played an influential role in the sporting careers of Chandler and Paxton. His mother Angela, not just the Associate AD at Concordia, could flat out score during her time at Morningside College. In other words, Chandler had the right bloodlines.
It became evident throughout his prep career at Milford that Chandler had the physicality, the talent and the smarts to be a collegiate student-athlete. He even had the advantage of having his step dad, Tony Muller, as his high school basketball coach. Chandler could always come home and talk basketball with Tony, a well-respected coach and math teacher in Milford.
Those Milford High days will be remembered by Chandler as some of his fondest. As a junior, Chandler teamed up with Paxton, a senior, on a physically imposing frontcourt, especially for a Nebraska Class C1 high school. The Folkerts spurred the Eagles to a 13-0 start and a state tournament appearance – and they had a blast doing it.
"That was fun. That was really, really fun," Chandler says. "That's one of the biggest things I miss about sports is playing with him. We knew what each other was going to do, especially in basketball. We were a pretty good tag team. Your older brother never lets you take it easy. He was always pretty livid if I was slacking off."
Paxton admits it would have been fun to continue that brotherly tandem beyond high school. He first ended up at Concordia as a member of the football team, but transferred to the University of Nebraska and is now farming just like his dad Paul, who owns vast fields of land in Carleton, Nebraska.
The farm life has long been something both Chandler and Paxton have enjoyed. Chandler is in the process of lining up a place to go to graduate school for agricultural engineering. Says Chandler, "The dream idea would be to help build farm equipment for a company and help my dad and brother farm."
The hard work it takes to be successful in farming has trickled down to all aspects of Chandler's life. Says Chandler, "Growing up I had the best of both worlds. My dad's on the farm and my mom's close to Lincoln in a bigger town. Whenever I was at my dad's you learn something about rural life and you learn a lot of work ethic on a farm, too. My dad always instilled that in me. It was just part of life growing up."
Limback saw how those values had been ingrained in Chandler right from their first meeting. The recruitment of Chandler had already begun before Limback had been hired in March of 2013. Once on board, Limback made it a priority to land Chandler, an obvious big fish.
It all started at the Pizza Kitchen in Milford. "Everybody around here said he was a big guy who would be a great fit," Limback recalls. "I saw some film on him and I thought, 'Oh yeah, this kid can play.' I remember meeting with him at Pizza Kitchen, having the chicken buffet. It was a wonderful conversation. I already felt like this was a guy we wanted. After that I knew he was more than just a basketball player."
'More than just a basketball player' is the perfect way to describe Chandler, who shows care and respect for everyone, young, old or anywhere in between. One particular instance stands out for President Brian Friedrich. Says Friedrich, "He is the young man every parent wants as a son. One of (my wife) Laurie's and my favorite memories of Chandler is the evening he arrived at our home 40 minutes early for a team dinner. He sat in our kitchen as we put the finishing touches on the meal and visited with us as if we were lifelong friends. Chandler has amazing parents who have shaped him, encouraged his Christian faith and taught him what is really important in life."
An all-timer
Devin Smith has been around the Concordia men's basketball program for close to three decades as a player, assistant coach and now as Director of Athletics. He calls Chandler Folkerts his favorite men's basketball player of all-time. Much of that sentiment has to do with the way Chandler carries himself in his faith and in his conduct on and off the court. In between head coaches, Smith got the ball rolling in the recruitment of Chandler.
1,938 points, 854 rebounds and 141 blocked shots later, it's safe to call Chandler an impact player, the kind you might be fortunate to have come around once in a generation. He has the attitude, the character and the work ethic to match his athleticism.
"He is a once-in-a-lifetime student-athlete who has had tremendous impact on the Bulldog basketball program," Friedrich said. "However, he is cherished and will be remembered, as much if not more, for the person he is rather than for the points he scored, rebounds he grabbed and shots he blocked."
On the Concordia men's basketball all-time lists, Folkerts ranks second in rebounding and fourth in both scoring and blocked shots. His performances on the court and in the classroom have led to a treasure trove of accolades, including the prestigious NAIA Emil S. Liston Award. He's also been named CoSIDA Academic All-America, Omaha World-Herald All-Nebraska and a national player of the week in addition to his two first team all-conference honors.
Considering Chandler's humility, those awards are probably stored somewhere out of sight. They're certainly out of mind. He spends zero time thinking about all-time scoring totals. There is no ego attached to The Chanimal. He may not be exactly perfect (he did miss seven shots in his 37-point game after all), but he'll go down as one of the all-time greats to come through Concordia.
Says Limback, "He's one of the best I've ever had. He's everything you could ask for in a player."