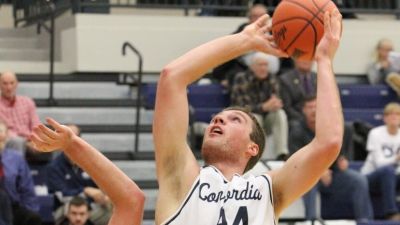 SEWARD, Neb. – The postseason honors are just beginning to roll in for Concordia men's basketball standout Chandler Folkerts. On Monday (Feb. 27), the College Sports Information Directors of America (CoSIDA) announced Folkerts as its choice for the men's Academic All-America® of the Year award. Also a first team selection, Folkerts has been named to the CoSIDA Academic All-America® team for the third year in a row.
Folkerts pulls in the highest honor given out by CoSIDA following second team Academic All-America® honors as a sophomore and first team recognition as a junior. The native of Milford, Neb., is no stranger to awards that factor in both athletic and academic excellence. This past fall the NAIA tabbed Folkerts with the NAIA Emil S. Liston Scholarship Award, which is awarded to one NAIA junior men's basketball student-athlete.
The two-time first team all-conference performer carries a cumulative GPA of 4.0 while majoring in mathematics and physics. Folkerts garnered NAIA honorable mention All-America accolades last season and has been placed on the NAIA All-Nebraska team by the Omaha World-Herald three times. The NAIA Scholar-Athlete took MVP honors at the 2016 and 2017 CITs. Folkerts has served as a YMCA youth basketball coach, a volunteer at the Lincoln City Mission Food Pantry and is a leader within his church.
On the Bulldog men's basketball all-time lists, Folkerts ranks second in rebounds (868), third in scoring (1,963) and fourth in blocked shots (142). As a senior, The Chanimal averaged 18.3 points, 8.1 rebounds, 2.0 assists and 1.39 blocks while ranking second in NAIA Division II with a 68.6 field goal percentage.
2016-17 academic all-district honorees
(*Academic All-American)
*Chandler Folkerts, Basketball
Le'Dontrae Gooden, Football
*Hallick Lehmann, Football
2015-16 academic all-district honorees
(*Academic All-American)
*Amy Ahlers, Golf
*Stephanie Coley, Track & Field
*Chandler Folkerts, Basketball
*Hallick Lehmann, Football
Adam Meirose, Football
Becky Mueller, Basketball
*CJ Muller, Track & Field
*Kim Wood, Cross Country/Track & Field
2014-15 academic all-district honorees
(*Academic All-American)
Amy Ahlers, Golf
*Brendan Buchanan, Soccer
Stephanie Coley, Track & Field
*Chandler Folkerts, Basketball
Jaydee Jurgensen, Baseball
Adam Meirose, Football
Bailey Morris, Basketball
*Rachel Mussell, Soccer
Shawn Rodehorst, Golf
Ben Sievert, Cross Country/Track & Field
Melissa Stine, Soccer