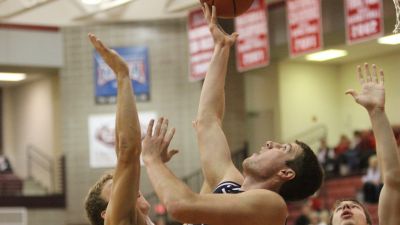 ORANGE CITY, Iowa – The one-two punch of Chandler Folkerts and Robby Thomas knocked out the host Red Raiders in Saturday afternoon's GPAC tilt. The duo combined for 53 points in fueling the Concordia University men's basketball team to an 87-81 win inside the Bultman Center.
The loss snapped a three-game conference skid for third-year head coach Ben Limback's squad. The Bulldogs improved to 11-6 overall and 5-6 in league play. Concordia has now won in each of its last two trips to Orange City, Iowa.
"I'm so proud of the guys to come on the road anywhere in this league and win," Limback said. "Northwestern's a very nice team. I thought we defended them well. Micah (Kohlwey) did a great job on (Colton) Kooima. There were a lot of lulls in the game. Couldn't really get into a rhythm on either side. I'm just so proud of the guys and their guts.
"When those guys (Folkerts and Thomas) are clicking like that, we're very difficult to defend."
Folkerts pounded away inside for a career best 34 points and 14 rebounds (third-straight double-double). His authoritative one-handed slam in the final minute helped put away a Northwestern squad that kept on coming. The Bulldogs built a 44-39 halftime advantage and then quickly pushed the lead to 15 with a 12-2 run to open the second half.
In a season filled with nailbiters, Concordia still had to sweat out the closing moments. The Red Raiders (9-9, 3-6 GPAC) used a 10-1 run to slice a 15-point deficit to six with 6:30 remaining. In crunch time, Nathan Wedel got Northwestern within two (80-78) with a trey at the 1:20 mark. He hit another one less than a minute later to slice the Bulldog lead to three. Northwestern did not score again and the Bulldogs made 3-of-4 free throws down the stretch to sew up the victory.
The Red Raiders never found an answer for the combo of Folkerts and Thomas. A 6-foot-7 native of Shawnee, Kan., Thomas became the 28th member of the program's 1,000-point club when he splashed in a three early in the second half. He complimented Folkerts' monster game with 19 points and three rejections.
Over his last three games, Folkerts has averaged 26.3 points and 13.0 rebounds. The first team all-conference performer punished Northwestern by making 14-of-19 shots from the field. Thomas referred to Folkerts as the "Chanimal" after Saturday's triumph.
"I got a lot of dump down passes from that guy No. 12 (Thomas)," Folkerts joked in a postgame interview conducted by Thomas. "There were a lot of easy buckets. Guys just found me in the right spots." Said Limback of his star post man, "Chandler just dominated, both halves."
Kooima, who played the role of villain in Northwestern's win at Concordia last season, was held to seven points (1-for-10 from the field) – well below his season average of 20.6. Though the Red Raiders shot 48.3 percent (28-for-58) overall, they came up nine points under their average (90.0). Wedel topped Northwestern with 22 points.
Limback and his group hope the heartbreaking losses are now just a thing of the past.
"We had a good meeting a couple days ago," Limback said. "I felt like tonight we were going to give much better overall effort. Today we responded with some positive energy. I think a lot of these guys came into tonight's game wanting to get after it and get one on the road."
Jamie Pearson added 12 points while playing 34 minutes. Four of the team's starters played at least 33 minutes.
The Bulldogs will step outside of conference action on Wednesday when they travel to play nearby York College (13-6). Tipoff is slated for 6 p.m. CT from the Freeman Center. In last season's meeting, Concordia topped the Panthers, 76-71, inside Walz Arena.