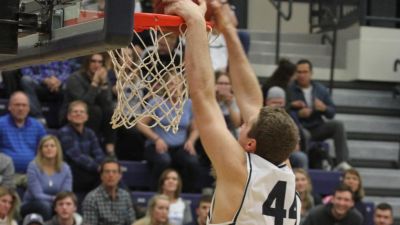 SEWARD, Neb. – The Bulldog men's basketball team wanted to avoid another nailbiter, so it went about rolling visiting Concordia University-Chicago as part of a dominant second-half performance. CUNE shot 54.8 percent from the field and won, 104-82, on Friday night while completing the first step in its bid to defend its 2016 Concordia Invitational Tournament.
Fourth-year head coach Ben Limback's Bulldogs are playing host to CIT for the first time since 2013. CUNE has won back-to-back home games and has improved to 14-8 overall.
"It was electric. It was awesome," Limback said. "I told the guys that these are the moments you'll never forget. The fans were outstanding. The electricity in the building was unreal. We're excited about getting to that next step with the championship game. Hopefully we have that same environment tomorrow."
The Bulldogs put on a show worthy of the electric Walz crowd that gathered for the 66th annual event. Nearly automatic inside, Chandler Folkerts brought the house down with a tip slam early in the second half that helped ignite the onslaught. Later on, Folkerts snagged a lob from Eli Ziegler and threw it down with authority. The reigning CIT MVP, Folkerts recorded 20 points and nine rebounds.
When Folkerts wasn't abusing the rim inside, the Bulldogs burned the Cougars from the perimeter. CUNE nailed 13-of-29 shots from 3-point range in the process of busting out of a recent mini shooting slump. In his first taste of CIT, freshman Tanner Shuck poured in 15 points, made 4-of-7 shots from beyond the arc and grabbed seven rebounds.
"You don't get many opportunities to play in atmospheres like this," Shuck said. "Everyone's excited all around campus. It's just a lot of fun seeing everyone out there. It makes it easy to get motivated to play."
CUNE owned a fairly modest 10-point lead (46-36) at the half, but the advantage quickly ballooned after the intermission. A 12-0 Bulldog run got started with Folkerts' monster jam and was capped by a triple apiece from Chris Johnstone and Shuck. CUNE then led, 60-40. The Cougars (4-15) never got closer than 17 points the rest of the way.
Shuck's reemergence may have been the biggest story of the night for the Bulldogs. After having been held to single-digit point totals in four-consecutive outings, the Grand Island native regained his shooting touch.
"I feel like our guys understand how to get open shots," Limback said. "It's just about having that confidence. Guys like Eli will just keep shooting no matter what. They got us off to a good start in the first half.
CUC showcased a star of its own in prolific scoring guard Mitch Pelissier. He went 9-for-16 from the field and turned in a game high 21 points. Pelissier led an attack that shot 48.8 percent (31-for-64) for the night.
Folkerts and Shuck were joined by Ziegler (14) and Johnstone (13) as double-figure scorers for the Bulldogs. Ziegler dished out six assists. Off the bench, Clay Reimers and Kyle Pierce both provided eight points. Justin Damme and Jake Hornick posted seven points apiece.
The Bulldogs hope to repeat as CIT champions and earn their 27th title in program history. Saturday's championship contest versus Concordia University, Ann Arbor (9-14) is set to get underway at 7 p.m. CT. The two squads also went head-to-head in the 2015 CIT championship game that went in the Cardinals' favor. Limback spent nine seasons as the head coach at Ann Arbor, leading the program to its first two CIT titles in school history.
"It's an exciting opportunity," Shuck said. "I'm ready to get after it. We're all ready for it."