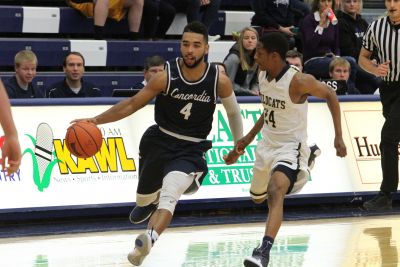 Folkerts, Bulldogs fend off Panther rally
SEWARD, Neb. – The Concordia University men's basketball team saw a 12-point second half lead melt away before it recovered for a 76-71 nonconference victory over York College inside Walz Arena on Saturday afternoon. Behind productive games from Chandler Folkerts and Robby Thomas, the Bulldogs shook off a two-game losing streak with a solid offensive performance.
Second-year head coach Ben Limback's squad evened its overall record at 4-4. The Bulldogs are now 3-2 outside of conference action.
"York made a comeback at the end but I felt like our team was the aggressor tonight," Limback said. "It's good for us. We needed this one. I feel like we're doing some better things defensively. Offensively we're moving the ball better."
The Bulldogs overcame their 23 turnovers by shooting 51.0 percent from the field. Folkerts was a pillar of efficiency, making all eight shots from the field and all five attempts from the free throw line. He finished with a game high 21 points to go along with five rebounds, three blocks and two steals while not turning it over even once.
"Our offense has gotten better and better each game, I think," Folkerts said. "Tonight we definitely found a rhythm. We just had guys attacking at the right time and making the right pass."
Following a 21-9 York (6-4) run that pulled the game into a 67-67 draw with 2:19 left to play, senior Joel Haywood came through in the clutch. He put up seven of his 11 points over the final two minutes. That stretch included a tiebreaking three-point play. He also assisted Folkerts on a key layup in the closing 50 seconds. Haywood then sank a pair of free throws with five seconds left to seal up a five-point win.
Like usual, Thomas filled up the stat sheet with 13 points, 10 rebounds, four blocks, four assists and a steal in 28 minutes of action. He provided the biggest roar from the Walz crowd with his thunderous one-handed dunk after driving the right baseline. The native of Shawnee, Kan., totaled 11 of his points after halftime.
The Panthers, topped by Daymian Marshall's 16 points, actually hoisted 25 more shots than Concordia. Still, York managed only one more made field goal and was unable to overcome a disadvantage at the foul line.
Limback liked the way his team's aggressive approach that yielded 28 free throw attempts (23 makes). The Bulldogs focused their game plan on feeding Folkerts.
"The big thing tonight was we wanted to go through Chandler and the big guys inside," Limback said. "We did that much better in the second half. It was good to have Max (Wegener) out there tonight and to get him some touches and a feel for the game.
"We're just trying to get better every night. I thought we made a step tonight."
Wegener, who played in only three games last season due to a torn ACL, saw nine minutes of action. He scored two points, grabbed three rebounds and blocked a shot. As a team, Concordia swatted eight Panther shots. The Bulldogs entered the night ranked fourth among all NAIA Division II teams with an average of 6.3 blocks per game.
Freshman guard Rudy Knight (10 points, four rebounds, three assists) joined Folkerts, Haywood and Thomas in double figures in scoring. Haywood added five steals and four assists.
The Bulldogs will be action once more before the Thanksgiving holiday when they travel to play Hastings (4-4, 3-1 GPAC) at 8 p.m. on Tuesday. The Broncos have won each of the last four meetings with Concordia.