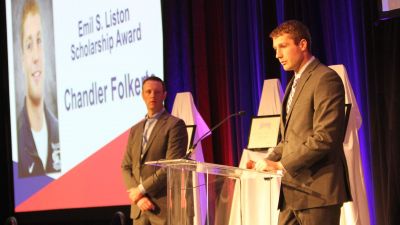 SAN DIEGO, Calif. – As part of the 2017 NAIA National Convention held in San Diego, Calif., Chandler Folkerts accepted the Emil S. Liston Award at a special awards luncheon on April 10. Folkerts delivered the opening prayer and later gave a short speech at the banquet that also featured recognition of other athletes, coaches and administrators throughout the NAIA.
After thanking many who contributed to his success as a student, athlete and community member, Folkerts continued, "Concordia has an extremely committed and engaging culture that provides an amazing place to grow and learn in Christ. I cherish all of my time there. A wise woman once told me that hard work always pays off. After four years of being a student-athlete in the NAIA, I can say with certainty that statement is true. I'm so humbled by the opportunities that have been given to me and the people who have impacted me throughout my journey."
The Emil S. Liston award, presented by Daktronics, recognizes academic and athletic excellence by junior student-athletes in men's and women's basketball. Named in honor of the NAIA's first executive secretary and a prime mover behind the men's basketball tournament, the Emil Liston Scholarship Award has been presented annually since 1950 to one junior men's and one junior women's basketball student-athlete. Each student is awarded a $1,000 scholarship.
Recently chosen as winner of the CoSIDA Academic All-American of the Year award, Folkerts will go down as one of the greatest players in the history of the program. The 2016-17 GPAC defensive player of the year finished his career with school all-time ranks of second in rebounding (868), third in scoring (1,963) and fourth in blocked shots (142). As a senior, Folkerts topped the GPAC in rebounding (8.1) and field goal percentage (.686), ranked second in both blocks per game (1.39) and double-doubles (10) and fifth in scoring (18.3). The Milford native's field goal percentage put him second among all NAIA Division II players. Folkerts was also tabbed a NAIA second team All-American.
"I don't think it's sunk in the type of career he's had," said head coach Ben Limback. "He played at a very high level for a number of years. This year I thought he expanded as a leader and you could see that amongst our team. His unselfishness and his work ethic was something he brought every day. I think we'll look back at him as one of the all-time greats here. Some things you don't even realize what he was doing. There's all the off-court stuff, the academics and his character. It was a spectacular career that he had at Concordia."