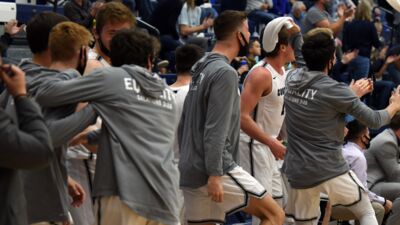 SEWARD, Neb. – Programs that met in the 2020 GPAC tournament championship game will reconvene this Wednesday night in the quarterfinals of the 2021 conference postseason. The fifth-seeded Concordia University Men's Basketball team is preparing to play at fourth-seeded Dakota Wesleyan. Both sides tied for third place in the final GPAC standings along with Jamestown. Head Coach Ben Limback's program has won three straight GPAC tournament games dating back to last season's title run.
GPAC Quarterfinals
Concordia (17-8, 14-6) at Dakota Wesleyan (18-7, 14-6)
Wednesday, Feb. 24 | 7 p.m.
Corn Palace | Mitchell, S.D.
Webcast/Live Stats: DWU Stretch Portal
Buy Tickets: https://dwuathletics.com/ticketing
--Admission: $10 for adults/senior citizens, $3 for K-12; only those with NAIA passes and GPAC student ID's will be admitted free of charge.
STATISTICAL BREAKDOWN
*2020-21 NAIA national rank in parentheses
-NOTE: 203 of 229 NAIA men's basketball programs have played at least one game this season.
Concordia
Scoring Offense: 82.4 (45th)
Scoring Defense: 72.6 (57th)
FG% Offense: .471 (T-54th)
FG% Defense: .452 (120th)
3-pt FG% Offense: .345 (T-103rd)
3-pt FG% Defense: .344 (T-109th)
Free Throw%: .708 (T-86th)
Rebound Margin: +4.80 (47th)
Turnover Margin: +1.60 (58th)
Dakota Wesleyan
Scoring Offense: 76.0 (111th)
Scoring Defense: 71.3 (39th)
FG% Offense: .464 (T-67th)
FG% Defense: .435 (T-65th)
3-pt FG% Offense: .350 (T-92nd)
3-pt FG% Defense: .316 (38th)
Free Throw%: .742 (T-28th)
Rebound Margin: +1.44 (89th)
Turnover Margin: +0.6 (83rd)
Protocols for fans
Dakota Wesleyan's protocols for fans can be found here: https://www.dwuathletics.com/general/2020-21/-1.13.21-_2020-21_DWU_COVID-19_Protocols.pdf.
--NOTE: All GPAC events require fans to wear face coverings. To review specific COVID-19 protocols for the GPAC and its member institutions, visit: http://www.gpacsports.com/gpac-covid19-fan-protocols.
Recent action
The Bulldogs took care of business last week in overpowering a pair of conference opponents situated near the bottom of the league standings. Concordia drained 19 treys in a 106-73 blowout of Hastings on Feb. 17. Four Bulldogs reached double figures in scoring: Carter Kent (19), Gage Smith (17), Justin Wiersema (16) and Sam Scarpelli (12). Kent dished out seven assists while Wiersema dropped six dimes. The Bulldogs have defeated the Broncos in 11 straight meetings. The victory marked the 250th in the coaching career of Ben Limback. Three days later, Concordia celebrated senior day by thumping another in-state rival. Smith totaled 21 points and 13 rebounds in the 84-63 rout of Doane. Wiersema posted 15 points and Kent chipped in with 13. The Bulldogs shot 47.8 percent from the floor. Concordia earned a season sweep of both Doane and Hastings and is 11-1 at home.

Gage Smith's tear
Over the past eight games, no Concordia player has been more productive than Gage Smith, who may have played his way onto the All-GPAC first team. Over the last eight outings, Smith has averaged 20.3 points, 9.9 rebounds, 2.5 assists and 1.63 steals per game while shooting 57.1 percent from the floor. In last week's action, Smith notched his ninth and 10th double-doubles of the season. The native of Elizabeth, Colo., has developed into a star after averaging 4.7 points and 4.5 rebounds in 2019-20 as a role player. His season averages in 2020-21 have bumped up to 14.1 points and 9.4 rebounds.

Wiersema extends streak
The ultra-reliable Justin Wiersema went the entire regular season with 10 points or more in each game. His streak of consecutive games with double figures in scoring has now reached 27 (including the final two contests of 2019-20). Wiersema should be a no-brainer first team all-conference selection. Among GPAC players, he ranks fifth in scoring (16.6), fifth in field goal percentage (.563), fifth in steals per game (1.60), eighth in 3-point field goal percentage (.414), 11th in assists per game (3.0) and 17th in rebounds per game (5.0). Each of those numbers represent career highs for Wiersema, who has totaled 883 career points as a Bulldog.

Program standards
The 14 GPAC wins have equaled a program single-season record. The figure ties the number posted by the 2004-05 team that placed second in the regular season. The share of third place this season also represents the highest regular season placement for the program since that same '04-05 campaign. Under Ben Limback, Concordia's previous high for GPAC wins in a season was 12 produced by the 2019-20 team. The Bulldogs have placed in the top four of the league in back-to-back seasons for the first time since 2003-04 / 2004-05.

GPAC tournament history
The program got an important monkey off its back last season when it defeated Northwestern in the GPAC quarterfinals. Prior to that victory, Concordia had not won a GPAC tournament game since 2009. Now the hope is to build off of what the Bulldogs accomplished in 2020 when they toppled Northwestern, Hastings and Dakota Wesleyan in GPAC tournament play. It's back to the scene of last year's celebration. In a memorable championship tilt, Concordia edged DWU, 68-66, behind 17 points from Tanner Shuck. In Limback's tenure (started with the 2013-14 season) alone, the Bulldogs and Tigers have met up four times in the GPAC tournament, including three-straight years from 2015 through 2017. All of those four matchups have taken place at the Corn Palace.
GPAC tournament games at DWU
2020 – W, 68-66 | Championship (Mitchell)
2017 – L, 90-98 | Quarterfinals (Mitchell)
2016 – L, 82-90 | Quarterfinals (Mitchell)
2015 – L, 65-78 | Quarterfinals (Mitchell)

GPAC tournament bracket
Had Morningside defeated Northwestern this past weekend, Concordia would have garnered the No. 2 seed in the bracket. Instead, the Bulldogs will have to hit the road. Below are the GPAC pairings for the quarterfinals.
No. 8 Mount Marty (9-16, 9-11) at No. 8 Morningside (20-4, 16-4), 8 p.m.
No. 5 Concordia (17-8, 14-6) at No. 4 Dakota Wesleyan (18-7, 14-6), 7 p.m.
No. 6 Dordt (18-7, 13-7) at No. 3 Jamestown (18-7, 14-6), 7 p.m.
No. 7 Briar Cliff (12-13, 9-11) at No. 2 Northwestern (20-5, 15-5), 8 p.m.

Scouting Dakota Wesleyan
The Tigers were 4-6 in their previous 10 games before pulling through with a 77-70 win over 21st-ranked Jamestown in the regular-season finale. That victory allowed DWU to host in the GPAC quarterfinals. Star senior guard Nick Harden led the way with 22 points and six assists in the win. A strong defensive team, the Tigers rank second in the GPAC in both scoring defense (71.3) and field goal percentage defense (.435). DWU split two meetings in the regular season with the home team winning in both instances. In the most recent matchup, Tiger forward Ace Zorr posted a career high 30 points.

Looking ahead
Wednesday's winner will advance to Saturday's GPAC semifinals and play either No. 1 seed Morningside or eighth-seeded Mount Marty. Tipoff times are to be announced. The GPAC championship game will be held on Tuesday, March 2.

Projected Starters
Concordia (17-8, 14-6)
G – Carter Kent, Jr. (15.2)
G – Sam Scarpelli, Sr. (6.1)
G – Justin Wiersema, Jr. (16.6)
F – Ryan Holt, Sr. (7.6)
F – Gage Smith, Jr. (14.1)
Dakota Wesleyan (18-7, 14-6)
G – Nick Harden, Sr. (17.8)
G – Sawyer Schultz, So. (9.7)
F – Mason Larson, Jr. (11.3)
F – Koln Oppold, Jr. (14.0)
F – Jeffrey Schuch, Jr. (9.7)