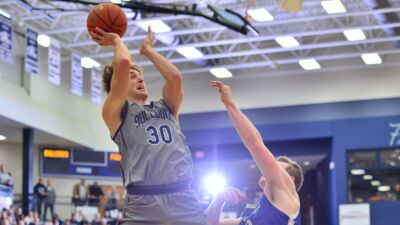 FREMONT, Neb. – Using the past eight days as an indication, the Concordia University Men's Basketball team has found a way to reinvent itself. Of course it helps when Brad Bennett and Noah Schutte are making shots at a blistering rate. The Bulldogs jetted out to a 15-0 lead at Midland on Wednesday (Feb. 1) and never looked back in the 91-63 route in Fremont, Neb. The trio of Bennett, Schutte and Garrett Seagren combined for 60 points and Gage Smith came with an eyelash of a triple-double.
Head Coach Ben Limback's squad effectively followed up a three-win week at home that included a Concordia Invitational Tournament championship. The regular season sweep of the Warriors has pushed the Bulldogs to 15-9 overall (9-7 GPAC).
"The leadership in the locker room showed for us to come out the way we did," Limback said. "It was 15-0 right out of the gate. That's what sets the tone. A lot of credit goes to our leaders to get everybody going and talking scouting report. I thought Garrett Seagren was outstanding today at both ends. He always guards, but I thought he had a little chip on his shoulder. It's fun to see him get going like that. I was proud of the way he approached the game."
Bennett and Schutte combined for all 15 of Concordia's points during the 15-0 spurt right after tipoff. The Elkhorn, Neb., native Bennett dropped in his third trey already at the 14:09 mark to make it a 27-5 advantage in the Bulldogs' favor. Midland never shaved the deficit to any fewer than 14 points the rest of the way. It had no answer for the star players that wore navy. Not just a defensive stopper, Seagren scored Concordia's first seven points of the second half while ensuring there would be no comeback.
Seagren racked up a career high 22 points on 7-for-13 shooting from the floor. The reigning GPAC Player of the Week Schutte posted 22 points and eight rebounds while making 8-of-11 shots in 27 minutes. Meanwhile, Bennett collected 16 points on the strength of 4-for-5 shooting from long range. While not a double-figure scorer, Gage Smith steered the bus in recording a stat line of eight points, 11 assists, 11 rebounds, four steals and two blocked shots. In making his fourth straight start, Jaxon Weyand chipped in with six points and two assists.
Midland (9-15, 3-13 GPAC) allowed the Bulldogs to shoot 48.5 percent (33-for-68) for the night. Concordia also owned a significant advantage in rebounding, 43-31, and made 13-of-30 (.433) attempts from 3-point range. The only Warrior to reach double figures was Emanuel Bryson with 14. Over the two meetings with Midland this season, the Bulldogs have won by a combined total of 174-110.
Concordia hit a rough patch in the middle of January, but it has regrouped and has the belief it can do some damage in the month of February. There's work to be done if the Bulldogs are to make a return trip to the national tournament.
Said Limback, "Guys are dialed in. There's a buy-in right now. Guys off the bench have some confidence and our young guys are starting to do some stuff. I really like the way Gage Smith played today. He does so many things with loose balls and hustle plays. He guarded really well and led a lot of our transition game."
The Bulldogs will return home to host Dordt (18-5, 10-5 GPAC) this Saturday with tipoff slated for 3:45 p.m. CT inside Friedrich Arena. A combined 41 points from Schutte and Gage Smith helped Concordia to an 87-72 victory in Sioux Center, Iowa, on Nov. 19. The Defenders will attempt to snap a three-game series skid against the Bulldogs, who are 10-2 at home in 2022-23. Concordia will celebrate its seniors prior to tipoff.