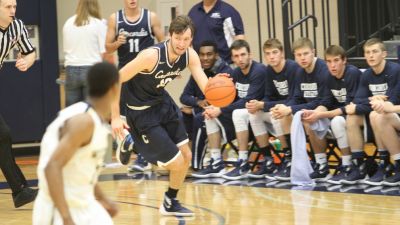 REDDING, Calif. – The (RV) Concordia men's basketball team prevailed in its first of two contests in California on Tuesday night. The Bulldogs displayed a 74-52 win over Simpson University, led by 22 points from Robby Thomas.
CUNE, now 9-4 on the season, gave Simpson its 11th loss of the season. The Red Hawks drop to 2-11.
Head coach Ben Limback said, "It was good to play…we struggled in the first half offensively and with the control to finish inside. I really like our defensive effort tonight. I thought we were active, we got on the floor for loose balls."
Concordia shot .430 from the field and .379 from behind the arc as a team. Defensively, the 'Dogs held the Red Hawks to .350 from the field. However, from the 3-point range, Simpson went 5-11 for a .454 percentage.
CUNE took advantage of 22 Red Hawk turnovers and converted them into 22 points. The 'Dogs out-rebounded the Hawks, 45-34 and swatted away six blocks.
Limback noted, "We talked about how great teams, when they don't do well offensively, whether it's shooting the three or finishing inside, great teams continue to defend and get things done defensively until they start scoring…I was proud of the guys for their defensive effort."
In addition to the 22 tallies from Thomas, the senior also grabbed six rebounds. The senior is now 40 points away from 1,000 career points.
Player of the game, Eli Ziegler scored 14 points and added nine rebounds. Coming off the bench, Max Wegener contributed 13 points, going 6-6 from the field, and five rebounds. The 13 points were a season high for the junior.
"Robby led us in scoring with 22 and had a great game offensively and defensively, he was very active. And Eli, I thought that his motive was really good and was really competitive. Max was perfect off the bench. It was one of those things where he came in and gave us a good lift in the first half when we needed it," Limback said.
The Bulldogs showed depth in their reserves with 11 student-athletes marking up 26 points from the bench.
"We got to see them (California State University-Maritime) play in the first game tonight," Limback said on upcoming play. "They play hard. They have good athleticism and a good bench and depth. So it'll be a good game and I feel like we have to bounce back and recover for tomorrow…we're excited about tomorrow afternoon."
The Bulldogs will face California State University-Maritime on Wednesday. The Keelhaulers, 7-5 on the season and the 'Dogs will tip off at 6 p.m. CDT.