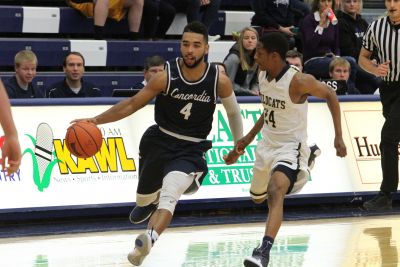 Do-it-all Thomas blossoming in junior season
By Jake Knabel, Director of Athletic Communications
In the opening game of this season, junior Robby Thomas went for a career high 23 points, 10 rebounds, three blocks and two steals in fueling a comeback win at Kansas Wesleyan University. The performance signaled the start of something special for Thomas, who is coming into his own now in his third season as a Bulldog.
Said head coach Ben Limback after the game, "He does everything for us. He's in for a great season."
Not bad for someone who entered his senior year at Maranatha Academy in Shawnee, Kan., unaware if he would even play basketball beyond high school. Long and lean at 6-foot-7, Thomas has the height of a post player and the skills of a guard. He will block your shot or pick your pocket on one end, and then pull up for three or dunk over the top of you on the other.
Really, there's not much Thomas can't do on the hardwood. He's become one of the nation's top shot blockers at 3.3 denials per game in serving as Concordia's human eraser.
"In high school I was a shot blocker," Thomas said. "It helps being as tall as I am and having a long wingspan. We've been working on explosive stuff so my vertical has been improving too. I don't really know what it is in terms of timing. I guess it's just something I've picked up. I enjoy doing it."
Thomas' rise to one of the GPAC's top players seemed unlikely during a senior prep year that saw him miss the second half of the season because of injury. Even with his combination of size and athleticism, Thomas' basketball career appeared as though it may be over.
But that wasn't quite the ending the three-year high school varsity letter winner and all-conference player had in mind.
"I remember my senior year in high school I wasn't sure if I wanted to play college basketball," Thomas said. "I ended up breaking my arm halfway through the year and didn't get to finish my senior year. That gave me a hunger to keep playing. I didn't want to end it on that note."
That hunger has Thomas blossoming in 2014-15. He's averaging career highs across the board and ranks among the top 15 among GPAC players in blocked shots, double-doubles, rebounding, 3-point field goal percentage, field goal percentage, scoring and 3-point field goals per game. Thomas is on track to be the first Bulldog to lead the team in scoring, rebounding and blocks since Sam Huebner in 2010-11.
With 98 career blocks, Thomas ranks fifth all-time in program history and is on a fast track to break Glen Snodgrass' Concordia record of 188, amassed from 1995-98.
Limback's most well-rounded player basically fell into the program's lap prior to his arrival in the fall of 2012. The pastor of Thomas' hometown church had played soccer at Concordia and encouraged Thomas to take a look.
"I came for a visit and tried out," Thomas recalls. "I liked the school and had a spot on the basketball team. It just worked out well."
The theology major got his feet wet as a freshman, playing an average of 15.4 minutes over 23 games. His role increased considerably last year as a sophomore, leading into a junior campaign in which Thomas is one of the team's focal points. Even faced with three different head coaches and a combined 14 wins over his first two seasons, Thomas just kept getting better, while preparing himself to become a leader and a stat-sheet stuffer.
"My freshman and sophomore year we had a lot of people leave so it was pretty obvious in the offseason that I was going to have to step up," Thomas said. "I worked on my game a lot this past summer with meetings and individual stuff, trying to help me be mentally prepared and to be a better leader to step up in big situations. It's been nice being able to step up and have a bigger role."
Last season's overwhelmingly young and inexperienced bunch has morphed into a team capable of hanging with the GPAC's top dogs. Thomas led the way with 14 points in Concordia's 77-74 road win over Hastings on Nov. 25. It was the type of victory that eluded Thomas and company the previous two seasons.
It's become evident that Thomas is becoming more comfortable in his own skin. He's so comfortable that he's not afraid to go shirtless, smear pink paint on his chest and wear a tutu in leading the student section at home volleyball matches. Thomas is all about raising not just his own level, but the level of those around him.
"Joel (Haywood) and I were talking about how much more fun CIT is because of the crowd's energy and how that raises the level of play," Thomas said. "After one of the volleyball games when it was a white-out theme we were a lot more into the game than we had been before. We'd like to think that it was because of us that the team played really well. We wanted to do it again and it just spiraled out of control from there."
The same goes for Thomas' improving game on the court. He's leading the charge for a Bulldog program aiming to get back to making regular trips to the national tournament. Thomas can do it all, but he knows that an improving roster means he won't have to.
"Going forward it's exciting because we know we're close to being there," Thomas said.