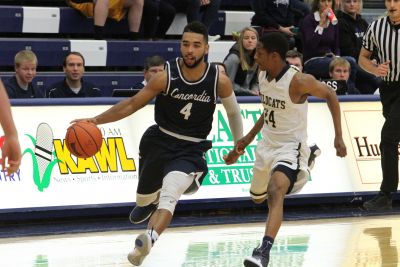 Denver Lutheran's Joel Haywood signs with Bulldog basketball program
Concordia University head men's basketball coach Grant Schmidt has announced the signing of Joel Haywood of Lakewood, Colorado. Haywood prepped at Denver Lutheran High School under head coach Ryan Bredow.
"We are very excited for Joel and for Concordia," said Coach Bredow. "He is a phenomenal talent, an even better person, and has been an incredible blessing to me and the greater DLHS community. He was looking for a program with good kids, a competitive, successful tradition, genuine coaches with Christian character, nice facilities and a quality academic environment. We believe he has found all of those things at Concordia."
"We are so excited about Joel making the decision to enroll at Concordia and join our program," added Coach Schmidt. "He is a fantastic recruit and yet has a level of humility that I am so impressed with. I know his teammates admire that about him as well."
Haywood was a three-year starter at Denver Lutheran. He was also a team captain for two years. Haywood has put up solid, consistent numbers throughout his career. Standing at 6'4", Haywood has impressed many with his versatility.
"His versatility as a player on the perimeter will be exciting to add to this team," noted Schmidt. "He can finish in the lane, hit from three, and his ability to score is outstanding. His stats are tremendous, but his best quality is his unselfishness. He makes the other four players on the floor better."
As a sophomore, Joel averaged 14.5 points, 5.1 assists, 4.2 rebounds and 3.5 steals per game. For his efforts, he was recognized as the Newcomer-of-the-Year and Rookie-of-the-Year.
Last year as a junior, Haywood averaged 16.1 points, 5.9 assists, 5.5 rebounds and 3.9 steals per game. He was a first team All-Conference and honorable mention All-State selection last season.
Haywood is off to a fantastic start in his senior season. Denver Lutheran is 6-1 on the year heading into the second semester and the start of conference play. Joel has averages of 21.8 points, 7.3 rebounds, 5.9 assists and 3.9 steals per game. He's shooting 52 percent from the field, 37 percent from deep and 90 percent (64-of-71) at the foul line so far this year.
Haywood also participated in baseball during his high school career. He lettered all four years and was a team captain for two years. He was Team MVP and an All-Conference selection.
"Joel had the opportunity to sign and play at bigger programs, so his decision to sign with Concordia is quite a statement about how impressed he is with our institution and the people he wants to be associated with," remarked Schmidt. "We couldn't be happier about this signing."