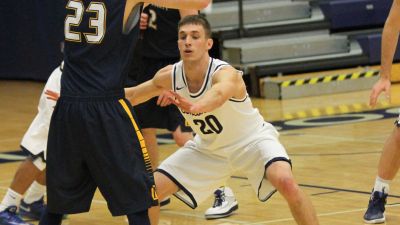 REDDING, Calif. – Playing in The Golden State for the second-straight day, the Concordia University men's basketball team pounced on 23rd-ranked California Maritime Academy with a blistering first half that left the Keehaulers in the dust. The Bulldogs rode 60 percent first-half shooting to a 75-48 victory on Wednesday evening in a contest played on the campus of Simpson University in Redding, Calif.
Third-year head coach Ben Limback's squad finished off a perfect 2-0 California road trip while improving to 10-4 overall. The Bulldogs now own a pair of wins over ranked opponents (No. 8 Bellevue and Cal Maritime).
Known as a prolific offensive team, Concordia used its best defensive effort of the season (season low 48 points allowed) to rule the day. Cal Maritime managed to shoot just 27.1 percent (16-for-59) from the field.
"We were very active and our length, I think, really bothered both opponents (in California), especially today," Limback said. "We had a good size advantage today. Defensively we did a good job using that length to disrupt their offense. The guys just played hard. When we guard this well we can have an off night offensively."
Concordia blitzed the Keehaulers early with its marksmanship from the perimeter. The nation's ninth-ranked shooting team (.500) buried triples on three-straight possessions and built a 21-6 lead early in the first half. The Bulldogs maintained a double-digit advantage the rest of the way. Thanks to its stingy defense, Concordia got by just fine despite slumping to 32 percent (8-for-25) shooting in the second half.
Cal Maritime's top three scorers on the year – Zach Davis, Daniel Radford and Kameron Hoyt – were a combined 5-for-27 from the floor. Roman Delgado paced the Keelhaulers (8-6) with 17 points on 5-of-8 shooting.
On the other end, Concordia got big man Chandler Folkerts (game high 19 points) involved from the opening whistle. Folkerts made 8-of-11 shots and snared seven boards. Jamie Pearson and Micah Kohlwey tallied 12 points apiece. Senior Robby Thomas filled the stat sheet with seven points, six boards, five assists, three blocks and a steal. Seth Curran (eight points) came off the bench and knocked home a pair of treys.
Other than a bout of cold shooting in the second half on Wednesday, there wasn't a whole lot for Limback to nitpick. He believes the California foray is something his squad can build upon.
"We wanted to make memories and bond as a team," Limback said. "That's a big part of these trips – building team togetherness – and we wanted to get two wins. Nobody got injured. It really couldn't have gone any better. It was one of those trips that hopefully the seniors will never forget."
Concordia shot 46.0 percent (23-for-50) overall and had positive turnover (16-14) and rebound (44-39) margins. Seven different individuals had at least one steal as Limback's crew won away from home for the third time this season.
A day earlier the Bulldogs pummeled host Simpson, 74-52, behind 22 points from Thomas. On Monday Concordia had the opportunity to attend the Golden State-Sacramento NBA game in Oakland. The team will depart from California on Thursday morning.
The Bulldogs draw another ranked opponent on Saturday when No. 12 Briar Cliff (14-2, 5-1 GPAC) visits Seward for a 4 p.m. tipoff. The GPAC-leading Chargers have won 11-straight meetings with Concordia. In appreciation for Seward community fans, admission will not be charged.